Commentary for Monday Aug 26, 2013 (www.golddealer.com) – Gold closed in loudly quite trading down $2.70 at $1393.00 so its big push above the 100 day moving average ($1370.00) and the follow through in overseas trading above the $1400.00 mark turned a roar into a whimper at least for the short term. Gold of course is being helped by some buying in the exchange traded funds and the unfolding horror in the Middle East and the use of outlawed gas weapons.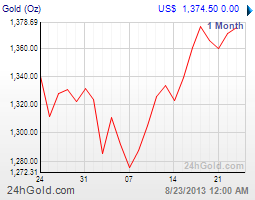 The unsettling housing numbers also supports gold but it is suspicious that today's durable goods orders down a whopping 7.3% created no action. Under normal trading conditions a number like that framed in the "easing controversy" should be worth $20.00 to the upside easy. The dollar index has been very flat the last three days and oil has also traded very tightly this past quarter so the two biggies seem stable enough. Barron's this morning points to Puerto Rico as being the next Greece with billions in red ink and no industry to support further borrowing. Believe it or not Puerto Rico sports about the same amount of debt as California and New York so those who believe the debt "problem" will just go away might want to reconsider. As long as US recovery numbers continue to disappoint and Europe remains flat I don't see how the governments worldwide can disconnect stimulus without creating more problems.
Silver made 16 week highs today closing up $0.27 at $24.00 and reminds me of the children's story by Watty Piper The Little Engine that Could. This is also good reinforcement that the US economy does have some steam which supports industrial silver demand.
Platinum closed up $2.00 at $1543.00 and palladium moved lower by $5.00 at $746.00. The National Union of Mineworkers (NUM) has given mine owners in South Africa until Saturday to meet worker demands for pay increases. It does not seem likely that an agreement will be reached as the mines have been having problems making the business of mining viable.
Allen Sykora (Kitco) cites Barclays Bank near term outlook for gold: Risks To Gold Prices Skewed To The Downside – "Barclays says it views the risks for the gold market as being skewed to the downside under its base-case scenario for how it expects events in the second half of the year to play out. "Our model projects that the price will post a small uptick by the end of Q3 '13 but face downward pressure in Q4, reaching an average of $1,294/oz for Q4 13 ($31/oz below our forecast)," the bank says. "Our model stresses three alternative scenarios, and in line with our expectations finds that should the likelihood of a federal funds rate hike increase, further downside risk for prices is likely, declining to $1,229/oz in December 2013. But if Fed tapering is delayed into say December, the model sees prices rising to $1,482/oz as soon as October." The seasonally strong period for demand from India is about to begin ahead of fall festivals, including Diwali. However, Barclays cautions, "we expect physical demand support to be limited in light of the recent import duty and regulatory changes." The Indian government has enacted measures intended to slow gold imports due to a large current-account deficit."
This is interesting because it does introduce something needed in the gold market especially with technical momentum now belonging to the bulls: caution. The chances of a significant Federal Funds rate hike is small in my mind because the economic recovery everyone is expecting will not materialize as expected. And there are still not enough meat and potatoes on the table for the government to modify its quantitative easing program. I would even take exception to Barclay's claim that physical demand will diminish because of the import taxes levied against gold by the Indian government.
A more probably scenario will be something like what we have seen in the past regarding quantitative easing. A great deal of talk but little action and physical demand for gold solid but not exceptional. The bulls and bears will exchange positions in the driver's seat and gold will remain range bound.
And if tensions in the Middle East are amped up because of the problems in Syria expect something big. I can't believe President Obama would do anything to escalate regardless of his "red line" promise because the entire region is already a powder keg.
At any rate a "short" position in gold makes no sense so while I don't think there is a big upside here until inflation returns I certainly would not discount a solid market in gold still trying to find legs in a long and drawn out consolidation. For real believers in gold and silver bullion we have yet another chance to get our house in order while the markets remain discounted.
And for those interested in the across the counter CNI action in gold there have been at least two whales back for more physical between last Friday and this Monday. Neither are professional traders and two smaller metrics in the LA market worth noting. Some dealers in LA are selling us their across the counter buys meaning they are seeing little in two way action. And a few larger dealers are buying from us directly with cash and picking up material I would assume to fill in delivery shortages. So the LA market while a touch on the quiet side for small action might be picking up soon for larger physical players.
The CNI computers place my almost famous LA Physical Trade Business Number at an improving "3" but I had hoped for an even higher number so activity still remains lack luster. Like us on Facebook and follow us on Twitter @CNI_golddealer. Thanks for reading and enjoy your evening. These markets are volatile and involve risk: Please Read Before Investing
Written by California Numismatic Investments (www.golddealer.com).