Commentary for Friday, Nov 15, 2013 (www.golddealer.com) – Gold closed up $1.10 today at $1287.30 and this makes for a weekly increase of (yawn) $3.00. About the only good news besides Yellen's comments is that gold did bounce off lows ($1260.00) but really I expected more fireworks.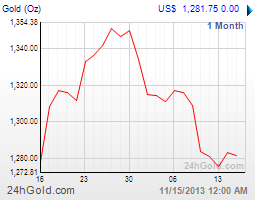 The big drag on this market short term is not debt talks, health insurance problems, sequester or quantitative easing. It's the stock market…there is so much buzz with recent highs and unreal IPO offerings that it has sucked all the oxygen out of the room so I am glad the weekend has arrived.
Silver followed gold closing unchanged on the day at $20.71 moving down $0.60 on the week (another yawn but actually sales volume is increasing).
Platinum closed unchanged at $1442.00 and palladium closed down $5.00 at $735.00.
Even with Yellen's dovish position relative to monetary easing the gold bulls still don't look like they want to be in charge when you study the 6 month chart. And with all the QE talk encouragement during this time frame gold was capped at $1400.00 twice and has seen two significant sell offs while spending plenty of time between $1275.00 and $1350.00. The first deflationary talk came out of Japan but now some are thinking perhaps Europe is next?
It seems implausible to me we are talking about deflation with the amount of monetary easing going on around the world but there you have it and it is possible gold feels heavy now (in spite of Yellen) because it might be signaling a deflationary wave in the making. I know it sounds crazy but that is the nature of today's bubble economics – you can never know for sure the results of this monumental government tampering.
I watched the politicians question Yellen on Thursday and their faces were more telling than their questions. Most of the time these confirmation hearings are a dog and pony show rolled out to make the public feel they are part of the process. Whichever party has the upper hand uses it to make the other folks look like they don't have the right answers.
But this time around the conservatives looked worried. Is it possible that her position on quantitative easing might be heading for the cliff? I could have read it wrong and perhaps they are just worried about another economic transition at a time when changing the guard makes no sense.
At any rate gold must soon show strength above $1300.00 or suffer another test of the $1200.00 support we saw back in June of 2013. Perhaps this is too pessimistic for my bullish friends but with recent problems on the health care front and another round of debt talks right around the corner it might take more than Yellen's reassurance that things are getting better.
And now the famous Kitco Weekly Gold Survey – Survey participants' gold price outlook for next week is mixed, with only a nominal number of participants in the Kitco News Gold Survey forecasting higher values. "In the Kitco News Gold Survey, out of 34 participants, 25 responded this week. Of these, 10 see prices up, while eight see prices down and seven see prices sideways or are neutral. Market participants include bullion dealers, investment banks, futures traders and technical-chart analysts. Last week, a majority number of survey participants were bearish. As of noon EDT Friday, December gold on the Comex division of the New York Mercantile Exchange was up about $3 an ounce for the week. Kevin Grady, owner of Phoenix Futures and Options, echoed what many survey participants said when they voted for firmer prices next week. "Comments by (Federal Reserve Chair nominee) Janet Yellen (Thursday) suggest that any degree of tapering is not imminent. Over the past four trading sessions we have seen upwards of 18,000 new shorts enter the market. Although I do believe we did have some short covering in (Thursday's) action, I think there is more short covering to come. We also saw some aggressive call buying (Thursday). Couple these factors together and we should see some higher prices next week," he said. A few survey participants believe the rally gold staged this week on Yellen's comments will be short lived, especially after prices retreated on Friday. Sterling Smith, futures specialist and vice president of commodity research at Citibank Institutional Client Group, said the lack of inflation is bearish for gold, which along with the weak momentum will cap gold gains. "The market should find strong resistance at $1,300," he said. Several participants said gold has acted more of a market for short-term traders than long-term investors, and that will likely continue. Frank Lesh, broker and futures analyst with FuturePath Trading, said he's neutral on gold, noting that many traders will get short, or sell gold, when it falls under technical-chart levels, only to buy back, or cover those short positions when prices rebound. "The tapering debate continues but it is a question of when, not if. Volatility should continue and this means that gold will remain a short-term trade for most participants as they take advantage of both sides of the market. Physical buying supports the market but it is not enough to propel the market higher. ETF (exchange-traded fund) liquidation has slowed but remains a possibility," Lesh said."
The GoldDealer.com Activity Scale for Friday is a solid "5" with both the walk-in cash trade and the phones pretty steady all day. The CNI Activity Scale takes into consideration volume, open and closed orders (buying and selling), the cash trade, and the hedge book: (last Monday – 3) (last Tuesday – 4) (last Wednesday – 5) (last Thursday – 6) (Friday – 5). The scale is 1 through 10 and we believe this is a reliable way to "sense" what a real bullion business is doing without the sales pitch.
Phase One of our new GoldDealer.com website will soon be operational. This new approach will show you live buy and sell bullion prices but you must talk with a live person to confirm and receive an order number. It will also include Live Chat, you will be able to set up your own customer account, receive automatic email confirmation, and ask for the daily Gold Newsletter email.
Phase Two will make accounting, shipping and tracking easier (check to see if we have your email address in the new system). We now offer the choice of USPS or FedEx Ground. Our new flat screens within the CNI Building are operational and cash is always available. The feed and graphs are live and bullion products are programmed with premium spreads: there is nothing like this on the West Coast and visitors enjoy complete transparency.
Like us on Facebook and follow us on Twitter @CNI_golddealer. And remember our Daily Gold Newsletter archive is now part of our Facebook page.
Remember our best price guarantee (buying or selling) so call Kenny at 1-800-225-7531. Thanks for reading and enjoy your weekend. These markets are volatile and involve risk:Please Read Before Investing
Written by California Numismatic Investments (www.golddealer.com).