Commentary for Wednesday, Nov 27, 2013 GoldDealer.com – Gold closed down $3.60 to close at $1237.80 going into the Thanksgiving holiday reacting to a stronger dollar and weaker oil: leading Economic Indicators stronger in October but Durable Goods and Chicago PMI weaker which points to a lackluster economy and less likelihood of the Fed taper anytime soon.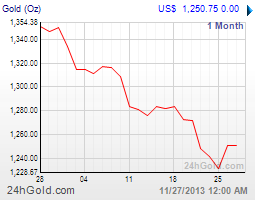 Silver down $0.21 to $19.63 after consecutive weekly losses of $.85 and $.60 but activity is picking up as physical buyers take advantage of cheaper prices.
Expectations of taper (and subsequent higher interest rates) have pushed this market lower. But we are a long way from higher rates which I believe will only happen once inflation is a problem.
Platinum closed down $18.00 at $1353.00 and palladium off $2.00 at $715.00 and the only conclusion you should be drawing here is that the talk of European recovery should be suspect so no reduction in their quantitative easing programs and so no early US reduction in the bond buying program.
A reminder that while GoldDealer.com will be closed this Thursday and Friday the commodity markets will be open the Friday after Thanksgiving and subject to thin trading so let's be careful of "pushing".
This from Market Watch: "Gold keeps trying to stabilize, but rallies have stalled short of resistance in the $1,250 to $1,260 range," said Colin Cieszynski, senior market analyst at CMC Markets, in an email interview. "With political and financial tensions easing, inflation falling and physical investment and jewelry down, the interest in precious metals as a haven for capital continues to be eroded." Or how about this one: "Swiss bank UBS on Tuesday forecast further downside in the gold price lowering their one month price target to $1,180 an ounce and adjusting downwards the three-month prediction to $1,100, reports Kitco News." Finally this from Mining.com: UBS sees gold at $1,100 by February "Joni Teves, UBS analyst, said their revision focuses on three points. First, gold sentiment is much weaker than initially thought as evidenced by gold's inability to rise even in the face of U.S. dollar weakness. Second, market participants are focusing on the expected tapering of the Federal Reserve's quantitative easing program, and third, physical buying is subdued, with buying less seasonal this year and Indian buying curbed by the restrictions placed on the market by the country's government and central banks."
So how is that for "a one, two, three what are we fighting for? Don't ask me I don't give a damn…next stop is Vietnam" sings Country Joe McDonald a near and dear in my old college days. Pardon the paraphrase but when the press on gold turns south it is really hard to find anyone out there that will listen. But how about this one: "China's demand for jewelry, bars and coins rose 30% to 996.3 tons in the 12 months to September" according to a Nov 26th post by the World Gold Council.
By my count that is 3 negative articles on gold to every 1 positive which should be about right in this war between the bulls and bears. And so the song goes but even with everyone jumping out the gold window prices are only down about 29% on the year and 8% on the month.
If gold was a Wall Street stock with solid earnings over the last decade it would be called a buying opportunity. My point, as always before we leave for Thanksgiving is simple: avoid the chatter and buy weakness. If you think there is further downside in gold just stand aside and be patient.
There are still a few problems in the world financial system which might prompt the unbelieving back into the gold bullion business: massive debt worldwide and no chance of modification that I can see, inflation, oil terrorism, the next big blow up on Wall Street fueled by cheap money (IPO and MA going crazy) but what happens when the debt repayment begins to rise because of higher interest rates, or the banking system, a government fiat currency system which must have near zero interest rates to survive and so it's "one, two, three what are we fighting for? Don't ask me I don't give a damn…next stop is Vietnam" have a good Thanksgiving everyone.
The walk-in cash trade was quiet Wednesday and the national phone business was average. The GoldDealer.com Activity Scale is a "6" going into Thanksgiving which is surprising as I would have expected a lower number. The CNI Activity Scale takes into consideration volume, open and closed orders (buying and selling), the cash trade, and the hedge book: (last Thursday – 7) (last Friday – 7) (last Monday – 7) (last Tuesday – 6) (Wednesday – 6). The scale is 1 through 10 and we believe this is a reliable way to "sense" what a real bullion business is doing without the sales pitch.
Phase One of our new GoldDealer.com website will soon be operational. This new approach will show you live buy and sell bullion prices but you must talk with a live person to confirm and receive an order number. It will also include Live Chat, you will be able to set up your own customer account, receive automatic email confirmation, and ask for the daily Gold Newsletter email.
Phase Two will make accounting, shipping and tracking easier (check to see if we have your email address in the new system). We now offer the choice of USPS or FedEx Ground. Our new flat screens within the CNI Building are operational and cash is always available. The feed and graphs are live and bullion products are programmed with premium spreads: there is nothing like this on the West Coast and visitors enjoy complete transparency. Like us on Facebook and follow us on Twitter @CNI_golddealer. And remember our Daily Gold Newsletter archive is now part of our Facebook page.
Remember our best price guarantee (buying or selling) so call Kenny at 1-800-225-7531.
The much awaited CNI Holiday Schedule: We will be closed Thursday and Friday (Nov 28thand 29th) for Turkey Day (I will let you know when I change back to using Thanksgiving as soon as I find out about my medical coverage). We will be closed Tuesday, Wednesday and Thursday (Dec 24th, 25th and 26th) for Christmas. For New Year's we will be closed Tuesday and Wednesday (Dec 31st and Jan 1st) and with that let's also thank you all for your business and support, it is much appreciated. Thanks for reading and enjoy a long weekend.These markets are volatile and involve risk: Please Read Before Investing
Written by California Numismatic Investments