Commentary for Tuesday, Nov 12, 2013 (www.golddealer.com) – Gold closed down $9.80 today at $1271.10 and if you look at the 60 day chart I don't like the developing head and shoulders pattern which might mean we will test further lows before year end. But again this market is so wonky anything can happen especially as Yellan reinforces Bernanke's spending habits.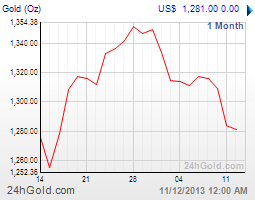 Still the tension of a "sooner taper" continues to build even with recent Fed comments that the "taper" might begin with baby steps (excuse the paraphrase). Supporting the return of this early taper thinking are generally rising US interest rates. Still gold drifts lower but has managed to stay above the October 11th low ($1268.00) a critical short term technical marker.
Silver was down $0.51 at $20.76 and so has moved below $21.00 for the first time since August.
Platinum was up $7.00 at $1438.00 over positive news from Johnson Matthey that the platinum deficit would reach 605,000 ounces for 2013 and this follows a 340,000 ounce deficit for 2012. Industrial and investment demand will be up 4.9% to 8.4 million ounces and auto catalyst demand down 2% as a result of slow sales of diesel cars in Europe and India. Platinum catalyst demand stands at 3.13 million ounces so this physical market is very active which is why the pricing structure is puzzling. I have expected higher prices for months and am still waiting.
Palladium was down $12.00 at $742.00.
Our friend Rumor Dave is back commenting on Monday's posting: "Hi Richard, I liked your comments today, very thought provoking they were. Chris Powell of GATA is famously known for having said "there are no markets anymore, only interventions" and that is where we are today…everyone is waiting to see which direction the price will be manipulated. You are probably getting tired of hearing me say it, especially since I have been saying it for quite a few months now, but the Fed will not taper because they can't taper. With QE4ever (and probably before that with ZIRP) they have created a Frankenstein monster over which they no longer have control and this will only end badly. The rumor now is that Janet Yellen will increase the QE, not taper it. I wish I could say having gold and silver will ameliorate the pain but that may not be true. This particular experiment has never been done before so nobody really knows what will happen. Keep your powder dry, Dave P.S. I just found out that it has been estimated that 10 -15% of the Indian Quarter Eagles are counterfeit. And good ones too, made out of 22K gold so knowing that the coin should weigh 4.18 grams will do me no good. Do you have any good fakes lying around the office? I would like to take a look at some, I have heard they can be extremely difficult to identify."
Dave touches on two important subjects for today's metal buyer: (1) the notion that the Fed quantitative easing will go on indefinitely. I can't believe this will happen but Dave's position is actually pretty common these days. Who is right? Either scenario is possible so we will have to wait and see. But let me say that if the "QE forever" people are right they will all look like geniuses because this conclusion is not intuitive or obvious. (2) Are there good counterfeits being made in other countries? Sadly the answer is yes especially in early US coinage. The counterfeit trade target this area because premiums are high on some denominations ($1.00, $2 ½, $3.00).
Adding to the problem is that counterfeiting in the US is against the law but in countries like China, Iran and India officials look the other way. And the counterfeits are good enough to fool a novice or even a semi-experienced dealer. So how do you protect yourself? Stay away from the smaller denomination coins unless you use an experienced dealer who guarantees his product.
And if you have an interest in larger denomination early US gold make sure your coins are independently certified by either PCGS or NCG who back their grades with a cash guarantee. Finally I do not have any counterfeits at the store because I melt them to make sure the public is not harmed a tactic common with members of The Professional Numismatists Guild.
This is a portion of a recent Bloomberg article (Chanyaporn Chanjaroen & Stephen Engle): Gold Vault Opens in China as Bullion Goes From West to East – "A gold vault that can store 2,000 metric tons, double China's projected consumption this year, opened in Shanghai this month as owner Malca-Amit Global Ltd. seeks to benefit from rising demand in Asia's largest economy. The facility is the biggest for the Hong Kong-based company, and it can also store diamonds, jewelry and art", Joshua Rotbart, precious metals general manager, said in an interview. The site could hold bullion worth about $82.5 billion at today's price, Bloomberg calculations show. China's total demand may reach 1,000 tons in 2013, the World Gold Council forecasts. Consumption in China may increase 29 percent to a record this year, overtaking India as biggest user as lower prices and higher incomes spur demand, according to the WGC. The investment in Shanghai's new free-trade zone reflects a shift in world demand away from the U.S. and Europe toward Asia. Demand for gold jewelry, bars and coins in Greater China, India, Indonesia and Vietnam is now about 60 percent of the global total, up from 35 percent in 2004, according to HSBC Holdings Plc. "Such a facility is a massive vote of confidence for the Chinese gold market," said Philip Klapwijk, managing director of Hong Kong-based Precious Metals Insights Ltd. "The trend for demand has been very strongly positive," said Klapwijk, who's monitored precious metals since 1988."
If you have not noticed the capacity to trade and store physical gold in China is moving dramatically higher. And the West will either ignore this trend or pretend the consequences are not important. The first big run on the gold held by the United States was finally stopped by President Nixon when he closed the gold conversion window: that gold (in coin form) ended up in the banking vaults of Europe. This week all the Chinese big shots are meeting behind closed doors to plan their next 10 years of growth. And believe me they are quietly laughing at how easy it will be for them to simply buy the gold they want on the open market from the capitalist system and at depressed prices.
Our Activity Scale for Tuesday is a "4" with active cash walk in trade and just on and off phone action. The CNI Activity Scale takes into consideration volume, open and closed orders (buying and selling), the cash trade, and the hedge book: (last Wednesday – 3) (last Thursday –4) (last Friday – 5) (Monday – 3) (Tuesday – 4). The scale is 1 through 10 and we believe this is a reliable way to "sense" what a real bullion business is doing without the sales pitch.
Phase One of our new golddealer.com website is coming together and will soon be operational. This new approach will show live bullion prices but you will still have to talk with a live person to confirm your order. It will also include Live Chat, you will be able to set up your own customer account, receive automatic email confirmation, and ask for the daily Gold Newsletter email.
Phase Two will make accounting, shipping and tracking easier (check to see if we have your email address in the new system). We now offer the choice of USPS or FedEx Ground. Our new flat screens within the CNI Building are operational and cash is always available. The feed and graphs are live and bullion products are programmed with premium spreads: there is nothing like this on the West Coast and visitors enjoy complete transparency.
Like us on Facebook and follow us on Twitter @CNI_golddealer. And remember our Daily Gold Newsletter archive is now part of our Facebook page.
Remember our best price guarantee (buying or selling) so call Kenny at 1-800-225-7531. Thanks for reading and enjoy your evening. These markets are volatile and involve risk: Please Read Before Investing
Written by California Numismatic Investments (www.golddealer.com).