Commentary for Friday Aug 23, 2013 (www.golddealer.com) – Gold was flat in early trading but popped higher up $24.50 at $1395.70. The strong move in gold is related to the weakness in the dollar when home sales disappointed. The reasoning being that traders figure if home sales disappoint the chances are good the Fed will not modify their massive bond buying program and so this supports higher prices for gold in the short term. There is another bothersome problem which President Obama commented on that being the deteriorating situation in Syria. If the Middle East continues down its current path the consequences for oil might be staggering.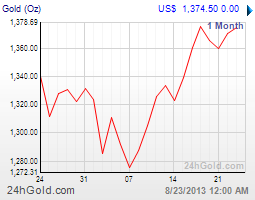 But this latest move to higher levels on a Friday looks more like an insurance bet than a confirmation of the latest technical strength because prices flattened out right under $1400.00. At any rate any "up" is good these days and we will have to wait for a confirmation on Monday to see if all the gold survey participants remain bullish on the short term.
Silver moved higher by $0.70 closing at $23.73 so stronger following gold but again our physical sales of bullion silver disappoint.
Platinum closed up $2.00 at $1541.00 and palladium was off $4.00 at $751.00. Again given the possible economic comeback I would have expected more action in both platinum and palladium. Rhodium is steady but still remains very interesting to me as a diversification bet.
And now the famous (Kitco News) – "Participants in the Kitco News weekly gold survey expect prices to rise, particularly after the market broke through strong overhead resistance on technical price charts. In the Kitco News Gold Survey, out of 36 participants, 23 responded this week. Of those 23 participants, 15 see prices up, while seven see prices down and one sees prices moving sideways or are neutral. Market participants include bullion dealers, investment banks, futures traders, money managers and technical-chart analysts. Last week, more than half of the market participants were bullish. As of noon EDT Friday, prices on the week were up about $25 on the week. As of Aug. 9, survey participants have been correct four of the past five weeks. Gold prices perked up on Friday after an overall lackluster trading week, and a strong close on a Friday is a positive technical chart-based signal, several said. Jeffrey Nichols, managing director, American Precious Metals Advisors, and adviser to Rosland Capital, said he sees prices rising next week, especially after seeing gold rally following the weaker-than-expected July new home sales data. "This knee-jerk reaction underscores just how sensitive the prices of gold and other financial assets are to changing expectations — pro and con — of imminent tapering. My short-term bullish view (for the next few weeks) is based on my belief that the economic news will continue to disappoint those expecting a rosy economic recovery — both among the Fed-watching community and among the Fed governors who set policy," he said. Those who see weaker prices next week said they haven't been pleased with gold's near-term price action. Bob Tebbutt, of Armour Risk Asset Management, said gold is coming to a critical point. "A move above $1,400 would be very bullish but the market move since the end of June may be getting tired. So I think the market is likely to ease off for a short period of time that could take it back to $1,300," he said. There was only one participant who sees prices trading in a range."
Again phone business and physical walk-in trade moved from sluggish to hot and then fading again so even with strength in the gold market and better psychological background for the precious metals the market seems dyslexic. The technical picture for gold is much improved and programmed trading will go off like a rocket if gold confirms above $1400.00 but be careful of sudden pullbacks and a choppy ascent because the two biggest factors driving gold today are present: short term profit and fear.
Even with all the negative press gold has received it is still the place to be if you think the roof is falling in and in some parts of the world the housing structure is not sound. The CNI computers place my almost famous LA Physical Trade Business Number at a disappointing "2" but remember this number represents yesterday's business. Given the surge in orders from mid-day on my bet is that Monday's number will be much higher and more interesting. Like us on Facebook and follow us on Twitter @CNI_golddealer. Thanks for reading and enjoy your weekend. These markets are volatile and involve risk: Please Read Before Investing
Written by California Numismatic Investments (www.golddealer.com).