Commentary for Thursday, Nov 14, 2013 (www.golddealer.com) – Gold closed up $17.90 at $1286.20 but actually most of that move was seen in the after-market yesterday on leaked Yellen commentary, and considering the strength in the dollar, this close is great.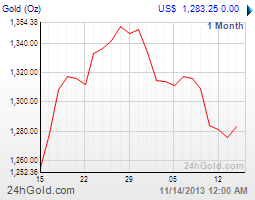 Silver closed up $0.28 at $20.71 and again I was surprised given the pop in gold that we did not see more action in silver.
This is interesting for silver fans (CPI Financial/Kitco): "GFMS highlighted key differences in ETF holdings between the gold and silver markets, noting that, while outflows from gold ETFs have been firmly in place throughout the year, silver ETF holdings continued to grow, reaching a record-high of 655 Moz as of 31 October. One explanation cited were broad expectations of economic recovery, which would offer silver prices a cushion of support owing to its properties as an industrial metal. Furthermore, the Gold:Silver ratio, a keenly watched metric, has steadily been on the rise since 2011, indicating a potential correction on the horizon. Meanwhile, physical investment demand (coins and medals) surged this year, and is expected to grow by 19 per cent year-on-year. Highlighting the results of Thomson Reuters GFMS Q3 Silver Coin Survey, coin sales have seen double-digit year-on-year growth, and are poised to match record sales levels witnessed in 2011."
Platinum closed up $12.00 at $1442.00 and palladium was higher by $4.00 at $740.00.
For those who think tapering is in the cards anytime soon read what Greg Robb (MarketWatch) has to say: "Yellen said the U.S. economy and financial system have come a long way since "the dark days of the financial crisis," but that important work lies ahead. She was most upbeat about the housing sector, saying it "seems to have turned the corner." Yellen, 67, would be the first woman to head the U.S. central bank if the Senate confirms her. She was tapped by Obama after former Treasury Secretary Larry Summers took his name out of consideration for the post after several Senate Democrats objected publicly to his candidacy. Yellen told the Senate panel that she has served at the Fed at different times and in different roles over the past 36 years. Most recently, she served as Bernanke's top deputy since 2010. In her remarks, Yellen said the economy is "significantly stronger" than it was in the wake of the 2008 financial crisis and added that it "continues to improve." "We have made good progress, but we have farther to go to regain the ground lost in the crisis and the recession," Yellen said. The unemployment rate is "still too high" and the economy is performing far short of its potential. Inflation remains low "and is expected to continue to do so for some time," she said. "For these reasons, the Fed is using its monetary policy tools to promote a more robust recovery. A strong recovery will ultimately enable the Fed to reduce its monetary accommodation and reliance on unconventional policy tools such as asset purchases," she said. The fact she said "ultimately" was picked up by Kit Juckes of Societe Generale as an indication she was in no rush to taper the Fed's $85 billion-a-month bond-purchase program. Yellen paid tribute to Bernanke, saying that he helped arrest the steep fall in the economy and restart growth. She said Bernanke's legacy would also include the 2% inflation target. "I believe this statement has sent a clear and powerful message about the Fed's commitment to its goals and has helped anchor the public's expectations that inflation will remain low and stable in the future," Yellen said."
Keep in mind this statement was released yesterday and Yellen actually talked with the Congress this morning but when this snippet hit the internet traders covered their short positions. This does not sound like someone who would vote for an early taper in December. And soon after that the Congress will be once again struggling with the debt ceiling and sequester.
Any blow-up in these important debt talks could shake the strong stock market and provide further problems for real estate. Like I said a few days ago there is a suggestion of deflation in Japan and it would well spread to Europe and then the US. This puts the Fed in a tough spot relative to tapering because when they proceed jobs in the US will suffer (creating political pressure). Yellen admitted in testimony today that easing can not continue forever but "when to taper" is the big question? My bet not until late in the 1st quarter of 2014 and even this assumes we continue to make progress. But by that time most believe all the air will have been squeezed out of the gold market and it will be supported by real physical demand first by the world's Central Banks and then by China and India.
The GoldDealer.com Activity Scale for Thursday is a "6" and at times the action was strong especially the cash trade within the store. Most of both the walk-in and phone business today is probably centered around people who have been sitting on the sidelines and now don't want the market to run on them. I still don't see this happening but we will have to wait and see. TheCNI Activity Scale takes into consideration volume, open and closed orders (buying and selling), the cash trade, and the hedge book: (last Friday – 5) (last Monday – 3) (last Tuesday –4) (last Wednesday – 5) (Thursday – 6). The scale is 1 through 10 and we believe this is a reliable way to "sense" what a real bullion business is doing without the sales pitch.
Phase One of our new GoldDealer.com website will soon be operational. This new approach will show you live buy and sell bullion prices but you must talk with a live person to confirm and receive an order number. It will also include Live Chat, you will be able to set up your own customer account, receive automatic email confirmation, and ask for the daily Gold Newsletter email.
Phase Two will make accounting, shipping and tracking easier (check to see if we have your email address in the new system). We now offer the choice of USPS or FedEx Ground. Our new flat screens within the CNI Building are operational and cash is always available. The feed and graphs are live and bullion products are programmed with premium spreads: there is nothing like this on the West Coast and visitors enjoy complete transparency.
Like us on Facebook and follow us on Twitter @CNI_golddealer. And remember our Daily Gold Newsletter archive is now part of our Facebook page. Remember our best price guarantee (buying or selling) so call Kenny at 1-800-225-7531. Thanks for reading and enjoy your evening. These markets are volatile and involve risk: Please Read Before Investing
Written by California Numismatic Investments GoldDealer