Commentary for Thurs Aug 29, 2013 (www.golddealer.com) – Gold closed down a tepid $5.70 at $1412.90 and while the mainstream financial press is now cooling off towards the Syrian action I would not be in such a hurry. The US will do something and it will have consequences so just because it does not appear any draconian measures will be used does not mean this issue has cooled.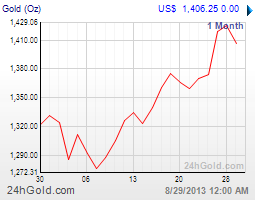 At any rate gold is moving opposite the dollar and remained in a tight trading range overnight which held through the domestic US market. Gold hit an all time high against the rupee as the Indian currency continues weak. A prime example of why import taxes will be skirted and physical demand from India will remain strong.
The second quarter GDP was revised upward from 1.7% to 2.5% and unemployment is at 6 year lows which are not good for gold short term. Discussion about tapering and the US debt limit will soon be front and center (September) so get ready for all the rancor you can stand as the American public still believes Congress is a mess.
Silver closed down $0.29 at $24.09 up better than 30% from its lows.
Platinum was down $17.00 at $1522.00 and palladium was down $7.00 at $739.00.
This from Peter Hug (Kitco) – Some Profit Taking Thursday – "The $1,424 level was a suggested target for lightening up, with a close above this point to suggest continued short-term momentum. The analysts downplayed the significance of a US surgical strike against Syria, which was enough to encourage the bulls to take some money off the table. Overnight gold held the $1,400 level and, as I write, finds itself only moderately lower than yesterday's close. This should be the last meaningful trading day of August and I suspect the trade will be to square, with a slightly long bias into the long weekend. The gold market will continue to need 'encouragement' for higher prints. It will react to daily economic prints that will fuel the when/if/by how much tapering will occur or not (i.e. interest rates). It will focus on debt ceiling debates, the US dollar's relative strength and weakness, and geopolitical events. It appears I am stating the obvious. The drop to $1,180 was fed by the frenzy of analysts that imagined a robust US economy, with a strong dollar, a 20,000 Dow and a return to 'Leave it to Beaver'. The market corrects the dreamers, as it did when gold hit $1,920. Gold has a valid position in everyone's portfolio. Hold your percentage, recalibrate every six months and turn off the noise. For traders, this market will not be a one way street as it was from 2008 to 2011. There are now at least glimmers of hope for a stronger, albeit slow, recovery and for the time being, less fear. Taking money off the table and reentering when the technicals confirm will be a prudent strategy for the balance of the year."
Hug brings a veteran trader's sensibility to the table every time and is not easily led astray with sensational headlines. According to the Huffington Post "The new poll, conducted after U.S. officials claimed Syria's government killed thousands of civilians with chemical weapons, shows 25 percent of Americans now support air strikes to aid rebels in Syria, while 41 percent said they are opposed. Another 34 percent said that they're not sure." The longer the wait before a strike against Syria and the more traders believe the punishment will not be designed to overthrow the Assad regime the quicker we get back to gold's old parameters: what is going to happen with quantitative easing and how will the dollar react?
Also remember this new trading range above $1400.00 is tenuous at best without disruption in the oil chain and most traders are sitting on gains so profit taking makes sense. I would not be short but then again being very long makes no sense unless the above $1400.00 level is confirmed. I would not describe this market as confusing because there are metrics on the table which should give everyone an idea of both short and medium term direction: like I always caution however patience is required.
No one seems to be talking about unresolved debt both here in the US and Europe but it has not gone away. The reason everyone is a bit happier is because stocks are doing well and the big "blow up" of the day has not happened. It is possible we all dodge the bullet and will have to wait for inflation to float the precious metal boat but one way or the other time is always on your side when it comes to physical ownership.
In the shorter term remember paper traders are sitting on $200.00 in profits from gold's June bottom ($1200.00) so its reasonable if the Syrian threat continues to fade and summer trading conditions continue why expect profit taking and side-ways actions for the remainder of the summer? Not spectacular but just a thought to replace the hack job or world ending scenario dished out by gold room telemarketers looking to rob the public with phony limited edition coins and ridiculous substitutes for real bullion products.
Walk in trade was just average today and cash trade steady. The phones were tending to the busy side but the "feeling" downstairs lacks excitement or buzz. We are seeing mostly buyers with a reasonable split between gold and silver bullion but platinum, palladium and rhodium remain quiet. A reminder CNI will be closed this Monday for Labor Day. The CNI computers place my almost famous LA Physical Trade Business Number at a falling "2" which indicates we might have to bring back the popcorn machine. Like us on Facebook and follow us on Twitter @CNI_golddealer. Thanks for reading and enjoy your evening. These markets are volatile and involve risk: Please Read Before Investing
Written by California Numismatic Investments (www.golddealer.com).