Commentary for Thursday, Nov 21, 2013 GoldDealer.com – Gold closed down $14.40 at $1243.50 with a troubling inter-day low of $1239.00 so my prediction of another test of the recent lows is on the money.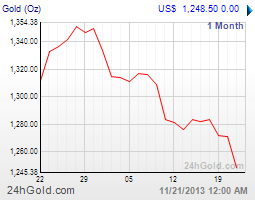 And today was the third time this week gold has dropped nearly $15.00. Breaking a key support of $1260.00 yesterday was the hand writing on the wall so now we are looking at the June 27thpost high low of $1211.00. Minutes released from the last FOMC meeting indicated a grand discussion about taper but once again was couched in terms of being data driven. Interest rates have perked up as the 10 year is back to 2.8% even though the Fed has not done anything relative to modification of the $85 billion bond buying program. Today saw some improvement in unemployment claims furthering the idea that taper is sooner than later.
Silver closed down $0.13 at $19.92 we are under the important $20.00 level and while other dealers are screaming its time to buy silver bullion I still think this market looks soft: a good time to buy some because silver has fallen 59% from 2011 highs. But keep cash in reserve in case we see further weakness.
I would also say that while the stock market is roaring and some believe Europe is healing (I don't) this weaker silver price may be just a reflection of a world economy still stuck in the "slow-down" mode. This is the first time silver has been below $20.00 since August 7th and before that time it was weak for nearly 6 weeks touching a low of $18.50 so be patient.
Platinum closed down $8.00 at $1391.00 and palladium was off $1.00 at $713.00.
A reader's question: "When the taper actually comes aren't we all going to look a little foolish having bought gold at these current levels? When traders start unloading all their paper it seems like the price is going to take quite a tumble. What am I missing? Appreciate your opinion. Thank you."
This of course is the question of the day: if taper why bother with gold? The answer being is that there are at least two other moving parts which come into play (taper or not). First the significant China and Asian demand and second the missing inflation numbers both here and in Europe. Sure it's easy to say when the Fed tapers gold moves lower but not if demand surges or inflation moves higher. Still a crapshoot but an interesting one. Thanks for the question. rs
Everyone is now using the "Sooner rather than later" phrase when it comes to the Fed's bond buying program. There was not really much in the latest FOMC info release to create this stir so I think the latest downdraft in metal prices was already baked into the cake and traders were looking for a reason to follow the path of least resistance. I belong to the group which thinks by the time the Fed does begin to cut back gold prices will have already been adjusted downward. But the part which is confusing in most commentary is that they do not explain how it is possible to move the $85 billion a month package lower and still keep interest rates at near zero. To me this becomes mutually exclusive even though Bernanke himself clearly stated that interest rates will remain low for a long time.
Paul Krugman (New York Times): Secular Stagnation, Coalmines, Bubbles, and Larry Summers – Destructive virtue – "If you take a secular stagnation view seriously, it has some radical implications – and Larry goes there. Currently, even policymakers who are willing to concede that the liquidity trap makes nonsense of conventional notions of policy prudence are busy preparing for the time when normality returns. This means that they are preoccupied with the idea that they must act now to head off future crises. Yet this crisis isn't over – and as Larry says, "Most of what would be done under the aegis of preventing a future crisis would be counterproductive." He goes on to say that the officially respectable policy agenda involves "doing less with monetary policy than was done before and doing less with fiscal policy than was done before," even though the economy remains deeply depressed. And he says, a bit fuzzily but bravely all the same, that even improved financial regulation is not necessarily a good thing – that it may discourage irresponsible lending and borrowing at a time when more spending of any kind is good for the economy. Amazing stuff – and if we really are looking at secular stagnation, he's right. Of course, the underlying problem in all of this is simply that real interest rates are too high. But, you say, they're negative – zero nominal rates minus at least some expected inflation. To which the answer is, so? If the market wants a strongly negative real interest rate, we'll have persistent problems until we find a way to deliver such a rate. One way to get there would be to reconstruct our whole monetary system – say, eliminate paper money and pay negative interest rates on deposits. Another way would be to take advantage of the next boom – whether it's a bubble or driven by expansionary fiscal policy – to push inflation substantially higher, and keep it there. Or maybe, possibly, we could go the Krugman 1998/Abe 2013 route of pushing up inflation through the sheer power of self-fulfilling expectations."
Even if you are not a Larry Summers fan this kind of thinking should provide at least mental support for those still grappling with the struggling gold market. Americans seem to have an inherent problem with owning gold even discounted to current levels but the Chinese see a natural consequence and remain willing to exchange dollars for physical gold.
The walk-in trade was steady and the phones busy. The GoldDealer.com Activity Scale for Thursday is a "7" so things are heating up and the real winner these last few days is gold bullion. The CNI Activity Scale takes into consideration volume, open and closed orders (buying and selling), the cash trade, and the hedge book: (last Friday – 5) (last Monday – 5) (last Tuesday –5) (last Wednesday – 5) (Thursday – 7). The scale is 1 through 10 and we believe this is a reliable way to "sense" what a real bullion business is doing without the sales pitch.
Phase One of our new GoldDealer.com website will soon be operational. This new approach will show you live buy and sell bullion prices but you must talk with a live person to confirm and receive an order number. It will also include Live Chat, you will be able to set up your own customer account, receive automatic email confirmation, and ask for the daily Gold Newsletter email.
Phase Two will make accounting, shipping and tracking easier (check to see if we have your email address in the new system). We now offer the choice of USPS or FedEx Ground. Our new flat screens within the CNI Building are operational and cash is always available. The feed and graphs are live and bullion products are programmed with premium spreads: there is nothing like this on the West Coast and visitors enjoy complete transparency.
Like us on Facebook and follow us on Twitter @CNI_golddealer. And remember our Daily Gold Newsletter archive is now part of our Facebook page. Remember our best price guarantee (buying or selling) so call Kenny at 1-800-225-7531.
The much awaited CNI Holiday Schedule: We will be closed Thursday and Friday (Nov 28thand 29th) for Turkey Day (I will let you know when I change back to using Thanksgiving as soon as I find out about my medical coverage). We will be closed Tuesday, Wednesday and Thursday (Dec 24th, 25th and 26th) for Christmas. For New Year's we will be closed Tuesday and Wednesday (Dec 31st and Jan 1st) and with that let's also thank you all for your business and support, it is much appreciated. Thanks for reading and enjoy your evening. These markets are volatile and involve risk: Please Read Before Investing
Written by California Numismatic Investments – GoldDealer.com