Commentary for Thursday, Nov 7, 2013 (www.golddealer.com) – Gold closed down $9.30 at $1326.00 after being higher by $10.00 in early trading. The ECB (European Central Bank) was at the heart of all this theater unexpectedly moving interest rates lower (0.5% to 0.25%), and then the first look at 3rd quarter US DGP (Gross Domestic Product) showed a surprise 2.8% growth rate also pushing the dollar higher.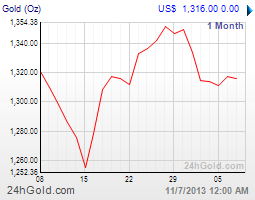 Silver also moved lower by $0.12 closing at $21.63 further defining a narrow trading range which has closed between $21.30 and $21.85 for the past 6 sessions.
Platinum was down $10.00 at $1455.00 and palladium was lower by $5.00 at $759.00. The price action in palladium is interesting, it being the only precious metal up on the year (+ 8%) versus gold (- 24%).
The sale of Rhodium bars has picked up after being quiet for weeks.
You could say that as the ECB interest rate cut hit the news the dollar moved higher and pressured gold lower. But you could also say that the initial pop in the price of the dollar was quickly dissipated, oil firmed and gold was just the victim of an ECB interest rate flutter and continues uneventful and drifting. The latter is closer to the truth because this entire expected result looks like a knee-jerk reaction.
So why is the gold trade once again looking carefully at Europe? Mario Draghi (European Central Bank) is always dovish and he remains so. Recent inflation numbers coming from his domain are much below their targets and in fact are so low that traders in Europe are beginning to fear deflation (don't laugh the same thing is happening in Japan). Draghi has already made his case that interest rates would remain low for the foreseeable future but today the ECB made rates even cheaper. This pushed the euro lower and made the dollar stronger which pressured gold prices.
Now considering that commentators are once again fixated on the US tapering case, you might assume this all would be bad for gold. But once again look at the bigger picture: virtually every major country in the world has made the case that quantitative easing is the way out of the recession.
I could argue that the creation of all this paper money is not the suggested panacea, but at least we have avoided collapse for the time being.
Europe can't shake itself loose of deflationary forces and climbing debt which stops economic growth. And while the US seems to be doing better these days, we still have not reached that break-out point which finally says "this mess is behind us".
Why not? It is not as though the government has not opened up the currency flood gates wide enough to help business shake off recessionary forces. But still the economy has not created the "jobs comeback" everyone expected. The same thing is happening in Europe and Japan and so the "economic grind" continues and governments hope for a better tomorrow.
I believe that 2014 will be a better year for everyone and think we will see those long absent inflationary forces which guarantee higher gold prices. In the meantime don't be too trusting of governmental promises and continue to buy weakness. This is the course Central Banks and the Asian trade have chosen, and for good reason.
Nov 7 (Reuters) makes a few fundamental points: (1) SPDR Gold Trust, the world's largest gold-backed exchange-traded fund, said its holdings rose 2.10 tonnes to 868.42 tonnes on Wednesday – the first increase since Oct. 22. (2) Hedge funds and money managers raised bullish bets in futures and options of U.S. gold and silver markets for the week ended Oct. 29, a report by the Commodity Futures Trading Commission showed. (3) Gold buying in India tapered off further after the festival week, even as domestic users started getting small import lots, weighing on premiums. If you read between the lines you will see that there is not enough real push one way or the other here to make a statement. And this morning's news of the interest rate cuts in Europe once again places the dollar in the driver's seat.
This from Allen Sykora (Kitco) is worth the read: B of A Merrill Lynch Sees Potential Gains For Gold In Near Term – "Bank of America Merrill Lynch sees short-term upside for gold followed by potential headwinds next year; however, analysts describe themselves as bullish longer term. The bank says no tapering of Federal Reserve quantitative easing is likely before 2014, and investors might be drawn back into gold. "Going forward, our fundamental view on gold has not changed: we see limited downside," B of A Merrill Lynch says. "At the same time, the scope for a sustained break-out of recent ranges seems limited for now partially because the Fed will ultimately taper. However, given the current macro economic backdrop, there is a fair chance for more gold buyers to emerge in the near term and that could take gold somewhat higher still." For 2014, the bank forecasts $1,294 gold due to gradual increases in U.S. real interest rates. "After all, rates measure the opportunity costs of owning a non-yielding asset," the bank says. "Therefore, they are the transmission channel from the real economy to the precious metal. This is a key reason behind our recent reduction of gold price forecasts. Yet despite these near-term headwinds, we remain long-term gold bulls." The bank lists a fourth-quarter forecast of $1,300 an ounce falling to $1,250 in the first quarter, but then back up to $1,300 in the third quarter of 2014."
The reason this is noteworthy is because it is the first commentary from the so called "establishment" that gold has essentially bottomed and is not moving toward the $1000.00 mark. The only way they can take this position of "little downside" is to believe the physical trade will support at current levels. Some "gold people" will moan that this commentary suggests a prolonged and relatively narrow trading range through 2014.
Similar perhaps to the prolonged range-bound market seen in 2011 and 2012 as gold drifted between $1800.00 and $1600.00. But keep in mind the earlier drifting market dealt with ETF selling and negative technical trading patterns suggesting the bull market in gold was on hold. If a lower level of sustained trading ($1300.00 plus or minus $100.00) is achieved in 2014 the gold dynamic will be changed completely from one of a sour price driven mood to one of anticipation supported by two powerful forces: physical demand and returning inflation.
And while the last trading trough lasted a few years stay open minded about the 2014 period. And keep in mind that this longer term baseline is supported technically by a 61.8% Fibonacci retracement as nicely pointed out by veteran trader Kira Brecht (Kitco) managing editor at TraderPlanet. I like the 2014 recovery scenario in gold because enough time has passed to get all the "weak hands" out of the physical market. In other words those disappointed in recent price action have sold and are looking elsewhere for profits and those which have not sold are in for the long term and therefore join the "price support" group.
Finally the New Year will also provide time for the stock buzz to dissipate. Today's Twitter opening is a perfect example in that the IPO creates so much energy that everything else becomes background noise.
The walk-in cash trade and national phone business was surprisingly active and steady all day for a change. Our Activity Scale for Thursday was "4" because some big gold dogs showed up and decided to play. The CNI Activity Scale takes into consideration volume, open and closed orders (buying and selling), the cash trade, and the hedge book: (last Friday – 3) (last Monday – 3) (last Tuesday – 2) (Wednesday – 3) (Thursday – 4). The scale is 1 through 10 and we believe this is a reliable way to "sense" what a real bullion business is doing without the sales pitch.
Phase One of our new golddealer.com website will be delayed another week (November 11th) and now I am beginning to feel like the President. It will also include Live Chat, you will be able to set up your own customer account, receive automatic email confirmation, and ask for daily Gold Newsletter email if you have the nerve.
Phase Two will make accounting, shipping and tracking even easier (check to see if we have your email address in the new system).
We now offer the choice of USPS or FedEx Ground. Our new flat screens within the CNI Building are operational and the cash trade loves this idea. The feed and graphs are live and bullion products are programmed with premium spreads: there is nothing like this on the West Coast and visitors enjoy complete transparency.
Like us on Facebook and follow us on Twitter @CNI_golddealer. And remember our Daily Gold Newsletter archive is now part of our Facebook page. Remember our best price guarantee (both buying and selling) so call Kenny at 1-800-225-7531. Thanks for reading and enjoy your evening. These markets are volatile and involve risk: Please Read Before Investing
Written by California Numismatic Investments (www.golddealer.com).