Commentary for Friday Aug 30, 2013 (www.golddealer.com) – Gold closed down $16.80 at $1396.10 so we have given up the important $1400.00 level and on the week gold gained a meager $0.40 but on the month we are up $84.00.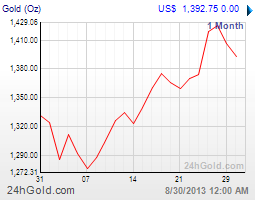 Silver was down $0.63 at $23.46 in what looks like simple paper profit taking and book squaring into the long weekend. Sales of silver bullion this week have been tepid and premiums are moving lower.
Platinum closed higher by $5.00 at $1527.00 and did nicely on the week up $98.00. A strike by African miners appears likely as they rejected a 6.5% pay raise and the strike deadline is this Sunday. Palladium was down $17.00 at $723.00 and both platinum and palladium have seen little action ignoring the South African mining problems.
In the Kitco News Gold Survey, out of 36 participants, 22 responded this week. Of those 22 participants, 11 see prices up, while nine see prices down and two see prices moving sideways or are neutral. Market participants include bullion dealers, investment banks, futures traders, money managers and technical-chart analysts. Last week, more than half of the market participants were bullish. As of noon EDT Friday, prices on the week were up about $7 on the week. As of Aug. 16, survey participants have been correct three of the past five weeks. Market participants who see weaker prices cited gold's inability to build on its mid-week gains. "I'm bearish for next week. We had a rally on the Syria concern, some flight to quality, but it didn't last. We couldn't bounce on this equity sell-off. We tried to test $1,450 but it failed, so I see this market rolling over," said Adam Klopfeinstein, market strategist with Archer Financial Services. Those who see higher prices listed several factors including the potential for escalation in the Syrian conflict and upward momentum. "The trend on the weekly chart remains up with technical resistance for the December contract still at $1,422.30," said Darin Newsom, DTN senior analyst. The few participants who see prices holding in a sideways range said they expect activity to remain quiet ahead of the key August nonfarm payrolls report.
So gold moves lower on less "war premium" but President Obama is still in a fix. Unfortunately he might be forced do to something but the "when" is getting longer because of the thumbs down vote as to action in the English Parliament. We have reached a time when the President Bush "Trust Me" statements will not wash so Obama, like it or not will have to make a better case to the American public as to what needs to be done.
You should also note that oil is still in the $109.00 range so not cheap but many believe cheap oil might be a thing of the past (I don't) but this does support gold. And higher oil is the classic first step in the inflation explanation because it is used for everything. At any rate gold remains defensive but ready if you know what I mean and the tide might be turning in the stock market. Perhaps a bit of over exuberance so while stocks are still a good play look for pull backs here which will help gold if other metrics cooperate.
Finally consider the dollar which has been generally stronger this past week and you will see that gold has not done poorly. The problem it now faces is that all the energy created by the Syrian issue has to be dissipated. I don't see any upside in this fight but the US will probably use some sort of missal response to give the President cover but any real involvement in her civil war will not be tolerated by the American public.
This from Sharps Pixley: Gold Traders Have Turned More Bullish – "According to the CFTC, the managed money short positions dropped 13 percent while the long positions rose about eight percent during the week ending 20 August. The net position at 73,216 contracts is the highest since 5 February. Geopolitical uncertainty, rising inflationary pressure from the oil price increase, and rebounding gold-backed ETP holdings have led to an increase in demand for gold."
Positive trader's sentiment is the rocket fuel gold needs to break above $1400.00 and continue higher but I think these statistics only mean there is a small mood change. In other words sentiment is more positive in that the shorts are not as bold. What we really need is continued strong demand numbers from Asia and confirmation that quantitative easing will remain in place.
The walk in cash trade at the CNI Building was below average today and so was phone business probably due more to the three day weekend route than anything else. Remember we will be closed this Monday (Sept 2) for Labor Day so domestic precious metal markets will also be closed but the overseas trade will be active so it is possible to see volatile gold swings if something weird happens with this Syrian problem before Tuesday. I only mention this because the US will not forewarn so you could wake up to coffee Sunday morning after Church and see sparks fly on CNN but let's be hopeful for a more positive outcome.
The CNI computers place my almost famous LA Physical Trade Business Number at an improving "3" but it is still on the wrong side of busy. Like us on Facebook and follow us on Twitter @CNI_golddealer. Thanks for reading and enjoy your weekend. These markets are volatile and involve risk: Please Read Before Investing
Written by California Numismatic Investments (www.golddealer.com).