Commentary for Wednesday, July 31, 2013 (www.golddealer.com) – Gold closed down $11.60 at $1312.40 ahead of the Federal Reserve comments about quantitative easing. Fed comments have sometimes created an immediate negative reaction in the price of gold and today the market moved as low as $1308.00 before recovering. And even today's close saw higher prices in the immediate after-market so volatility rules for now.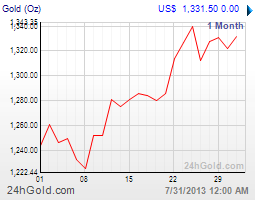 Silver again followed gold but was down a small $0.05 at $19.61 and for those looking for real dealer action we have sold much more silver these last few months than gold. This would indicate the public is definitely buying cheaper silver in the physical world but this metric does not translate directly to the paper world which rules when it comes to relative price direction. This anomaly is sometimes used to explain why the paper price of silver is manipulated by a close cadre of very large silver brokers with huge silver short positions. That being said the physical market is already steady as she goes so further upside in the price of silver might have to wait until this latest consolidation in gold is completed.
Platinum was down $8.00 today at $1429.00 and palladium was off $2.00 at $726.00. Both the platinum and palladium markets are cheap relative to gold but the public is definitely not interested today in either buying or selling so very quiet on the PGM front.
News of slightly better GDP (Gross Domestic Product) number was announced so the economy is growing but not to a level that motivates the Fed to reduce monetary expansion. The statement which was released after the New York gold close showed no signs of a lessening in the Fed quantitative easing program. They also lowered expectations of economic growth so they are selling on both sides of the street at least for now.
Since Monday of this week the dollar has had a positive bias so stronger but not aggressively so which means to me that the hedge bets remain strong. The honest uncertainty in the economic market still makes up a large part of what gold will do on the short to medium term. If you are a stock bull you need no further convincing even though there are plenty of bear remarks which claim this recovery is tepid at best and will not support current DOW levels. And the Fed has gone out of its way in an effort not to telegraph tapering information in such a way as to pin down a time table. They want as many options as possible because while economic things are better they are in the same spot as floor traders in that their picture of the future remains a bit of a mystery. So my position on gold is unchanged because while the market may seem cheap to some it must hold the $1300.00 support level or face significant downside perhaps even to $1050.00 as this latest consolidation completes the sell off. There is no way of knowing more at this point especially because the technical picture is once again blurry.
Both Kenny and I are now arguing over the "taper". I believe it will happen and gold will test current support. He is in my office as I write this missive and thinks I am nuts: "Tapering is not going to happen anytime soon because 1.7% GDP growth does not provide the jobs to make anyone happy. And job creation is the name of the game for the Fed."
So there you have it but because he left I want to opine about what looked like a bottom in the price of gold but now I am not too sure. Like I said yesterday the price graph has flattened out and we are once again looking at the problematic $1300.00 support. Any hint of tapering cessation by Bernanke perhaps as soon as September (rumor…unconfirmed but still on the front burner) could destroy the nice technical bounce in prices we have seen since early July. So again patience is needed as gold moves first up and then down on any scrap of information which might relate to the recovering US economy.
Walk in and phone trade today was steady to quiet with no big plays one way or the other. Thanks for reading and enjoy your evening. These markets are volatile and involve risk: Please Read Before Investing
Written by California Numismatic Investments (www.golddealer.com).