Commentary for Thursday Sept 26, 2013 (www.golddealer.com) – Gold closed down $12.30 today at $1323.60 still within its most recent trading range. The dollar was marginally stronger but some dollar traders feel we will soon test recent lows. I don't know about that but technically short term it looks weaker.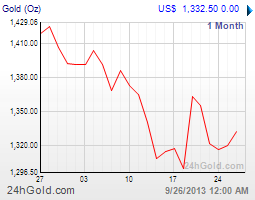 So what is it going to be with the budget resolution? Your guess is as good as any but this could be quite a mess in which case gold will trend higher. Short and quick with little fanfare and gold will react lower: in my mind odds are they solve the problem at the last second and the overall effect on gold is minimal.
Silver closed down $0.11 at $21.72 in quiet trading and the physical action is putting me to sleep.
Platinum was down another perplexing $18.00 at $1412.00 and palladium was off $2.00 at $722.00. I have to admit at this point I just don't get the PGM action because in my mind platinum at least should be $100.00 perhaps $150.00 higher than its current level.
I see the CFTC (Commodity Futures Trading Commission) has closed its most recent investigation into rigged silver futures trading. This is not the first time the commission has investigated and it won't stop the incessant rumors that the paper market is somehow rigged to the advantage of large trading houses and massive short positions in silver. This argument is rolled out on a regular basis to explain why silver is not priced significantly higher.
To be honest I have looked at this story for a long time and can see legitimate concerns but to buy the complete conspiracy theory the CFTC must be complicit and that is the part which is hard to understand. Why? Maybe traders of the world have figured out a way to game the silver price within the accepted rules of trading but that is above my pay grade so I am not dismissing this case as easily as the CFTC. Just letting you know the government is through nosing around for now.
Ted Butler's explanation of the price rigging is too complicated for the occasional reader but I would like to hear from any reader which can boil this plot down into 4 or 5 sentences which I can publish.
One of my favorite traders Peter Hug (Kitco): You Go First – "Markets continue in a tight range as the debt ceiling deadline inches closer. Yesterday traded true to range, holding the $1,307 level after briefly touching the $1,327 resistance point. The market appears to want to go lower, but no one is stepping ahead of the possibility of a government shutdown. Suggest the range today may be $1,312-$1,327. The Middle East hyperbole has somewhat settled down, the US$ is trading sideways, equities are sideways. This portends a market with fingers hovering above the trigger. After getting snapped last week on the Bernanke "surprise," traders will continue to be reluctant to position until more clarity is apparent."
Peter has correctly cast this mishmash in the pricing of gold. Everyone with some trading background knows the market is heavy but no one wants to get caught short because there are too many variables on the table. Will Congress get into a food fight? Will the Syrians actually roll over or are the Russians just playing the US? Will tapering be put back on the table soon?
In the last 30 days gold has sold off the $1400.00 level with even higher expectations at the time. It has flattened out at $1320.00 even though most traders thought it was certainly headed lower. It then surprised everyone by a strong short covering move above $1360.00 and then proceeds to once again sell off making a bearish technical case. To say everyone is confused is an understatement and that is why Peter's title "You Go First" is a classic. Everyone wants to play (both professional paper traders and real physical buyers) but the herd mentality still rules. Neither group wants to be out on that limb by themselves.
Both the walk in and phone trade were very quiet today. The CNI computers place my almost famous LA Physical Business Number for Thursday at a "2" (Wednesday was also a "2"). For those who have asked this scale is based on combined volume numbers and anything over "5" is relatively busy.
In another 2 weeks or so Phase One of our new www.golddealer.com web site will be complete and will include a new look along with live pricing. It will also include Live Chat and you will be able to set up your own customer account. Look for further interface improvements before year end which make accounting, shipping and tracking much easier (check to see if we have your email in the new system).
If you visit CNI in person look for the new flat screens with live feed and graphs (gold, silver, platinum and palladium). This will drive all our bullion products and we have programmed the premium spreads on each line to make your choices easier. Like us on Facebook and follow us on Twitter @CNI_golddealer. Thanks for reading and enjoy your evening. These markets are volatile and involve risk: Please Read Before Investing
Written by California Numismatic Investments (www.golddealer.com).