Commentary for Monday Sept 30, 2013 (www.golddealer.com) – Gold closed down $11.90 at $1326.50 and while some of the trade thinks this is related to the government funding problems I think it's more related to a technical correction. Supposedly this is the first real shutdown in 17 years but this Congressional rancor is a clever attempt to fix blame and perhaps get lucky and throw the President under the bus. Everyone should grow up and work up instead of playing around with gimmicks.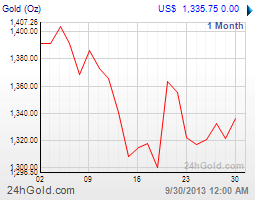 The gold trading fund (GLD) fell to 905 tons from its May 17th physical position of 1041 tons. While this is a pretty big drop (spec funds moving elsewhere) the World Gold Council claims Chinese gold imports this year could reach 1000 tons.
Silver closed down $0.13 at $21.65 again with no buzz and no physical shortages so it seems happy at above $20.00 but the lines for 90% bags, US Silver Eagles and 100 ounce bars are not getting longer.
Platinum was down $6.00 at $1410.00 and palladium was off $4.00 at $726.00. The word which comes to mind about gold this Monday even with the "shut-down" talk, stocks looking red, Italy once again in a crisis mode, lower oil, and the three month dollar index looking weak is "no-buzz".
You can't say there is nothing happening because things are "popping" all over the place but gold continues in a very uninteresting pattern. Since the April sell off from $1600.00 we continue to look at a market which is range bound between $1200.00 and $1400.00.
There is some experimental paper action around shorting the disappointing news but even this is not convincing. With today's stock opening everyone was happy that the Federal Reserve did not modify or taper their quantitative easing program. Some flowers are blooming in the Iran/US relations department where things were so cold even a smile or handshake is welcomed.
Given most of the above I would have thought gold and silver would create more huff and puff but instead they appear even sleepy. And like I said last week beware of sleepy markets because they create mischief and are not necessarily orderly or sensible.
That being said if you accumulate with the longer term in mind the metals are cheap relative to old highs. And if you approach bullion from a discount standpoint it favors accumulation. I have always been a value player so look at these numbers which represent today's discounts from gold and silver highs in 2011. Gold moves from $1888.00 to $1320.00 down 30%. Silver moves from $48.00 to $21.80 down 55%. Platinum moves from $1880.00 to $1416.00 down 25%. Palladium moves from $830.00 to $730.00 down 13%. Rhodium moves from $2000.00 to $1000.00 down 50%.
Avoid conversations about an absolute bottom or whether the metals could settle further or bounce lower. These sound interesting but accomplish little in forging a real accumulation plan. Take advantage of large discounts when they appear and you will do just fine when everyone comes to their senses: the damage already done to the world monetary system is immense.
This from a reader: "The US Mint started issuing $1 Presidential coins. Currently, they are only worth $1 to some, others less circulated have a little more value, but for the most part, will it take the "40 year rule" before there is going to be a market for these coins? (Also all the States Quarters) If the currency of the US Dollar gets devalued (some are estimating a 30% devaluation before the end of 2013), will fairly new collectable US coins become worthless, or be able to hold some value should a currency devaluation occur (maybe later to collectors?) If they will hold or gain value over time, I will hold on to them. If the dollar sinks and the value likewise plunges, maybe I should unload them and buy bullion before a dollar plunge?"
The "40 year rule" this reader is referring to is the time frame which in my mind defines "modern issues". In other words if you are thinking about investing in anything other than bullion make sure the coins are older than 40 years. I bring this up in this forum because there are plenty of "new issues" which are certified and sold as "better than bullion". This entire area of "better than bullion" is a trap of the first order and should be avoided. What is not rare today will not be rare in 40 years and a bullion substitute is not bullion. Discount what you hear in this trade and check facts carefully before investing. I got an email not too long ago from a reader who was told by a large dealer that bullion products should be avoided because the government will confiscate coins/bars when the dollar collapses. The would-be buyer was offered a silly bullion substitute at almost twice its melt value. But arriving at the weight per ounce took some figuring so if the newbie accepted the salesperson's word they would be underwater from the very beginning. So what to do? Follow your mother's advice: be suspicious it just makes good sense.
The walk in cash trade today was boring and the phones were inconsistent. The phones rarely rang until after 11.00 AM and then it was either 10 lines blinking or nothing and the majority of action was gold bullion. The CNI computers place my almost famous LA Physical Business Number for Monday at "3". For those who have asked this scale is based on combined volume numbers and anything over "5" is relatively busy.
In 2 weeks Phase One of our new golddealer.com web site will be complete and includes a new look along with live pricing. It will also include Live Chat and you will be able to set up your own customer account. Look for further interface improvements before year end which make accounting, shipping and tracking easier (check to see if we have your email in the newsystem).
If you visit CNI in person look for the new flat screens with live feed and graphs (gold, silver, platinum and palladium). This will drive all our bullion products and we have programmed the premium spreads on each line to make your choices easier and cash is always available. Like us on Facebook and follow us on Twitter @CNI_golddealer. Thanks for reading and enjoy your evening. These markets are volatile and involve risk: Please Read Before Investing
Written by California Numismatic Investments (www.golddealer.com).