Commentary for Thursday, July 25, 2013 – Gold closed slightly higher today up $9.10 at $1329.00 in quiet trading and I think this bounce is just technical but does support the notion that we might be entering bottom territory. Initial jobless claims were up 7,000 which is discouraging and the dollar index was slightly weaker.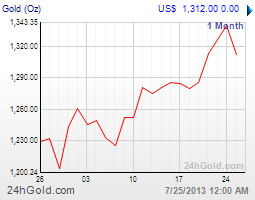 The World Gold Council claims that Chinese imports of gold could top 1,000 tons this year which would make China the world's largest gold importer. India is currently number one and imported about 850 tons last year but figures this time around are likely skewed because import taxes push their real gold trade underground.
Silver once again followed gold higher in tepid trading up $0.13 at $20.14. The most popular silver bullion product today was the US Silver Eagle as the Mint once again steps up production of Monster Boxes. Platinum was down $8.00 at $1448.00 and palladium was also lower off $4.00 at $740.00 as both the physical and paper market were quiet.
This from Sharps Pixley: A Floor to China's Growth – "The gold market has been adjusting to the expectations of the Fed's tapering. A Bloomberg poll shows that 50 percent of those surveyed expects that the U.S. Fed will reduce its bond purchases to $65 billion a month in September. The market also takes comfort from the news that the Chinese government will put a floor of its GDP growth at 7 percent because China needs to become a moderately wealthy society by 2020. The July flash China PMI came in weaker at 47.7 compared to an expected 48.2. China has also started to liberalize its interest rates by removing the lower limit of the financial institutions' lending rates. The next important step in China's structural reforms will be the liberalization of the deposit rates. Support for Gold Prices – The surge in gold has been accompanied by a weaker U.S. dollar. In June, the existing home sales in the U.S. fell to 5.08 million on an annualized basis compared to the median forecast of 5.26 million and 5.14 million in May. On 22 July, the gold futures closed above its 50-day moving average for the first time in eight months. Physical demand has been robust in Asia as evidenced by the persistent premiums. The dwindling Comex gold inventory has raised concerns of default by the Comex. Gold traders are increasingly covering their shorts as physical gold delivery is getting a little harder each day. The CFTC data shows that during the week of 16 July, the net short positions in gold by speculators fell 10.82 percent to 121,305 contracts while the net combined positions surged a whopping 47.72 percent. On the negative front, India has further restricted gold imports by requiring the importers to set aside 20 percent at the customs warehouses for re-exports. The gold will be made available to jewellers and bullion dealers only. The All India Gems and Jewellery Trade Federation expects the gold imports to drop 63 percent in the second half of this year, further pressuring gold prices."
You can see from the pros and cons that while technically gold looks much better on the short term the longer term picture remains conflicted. And my emails pile up asking if gold has now bottomed or in the negative we will see lower prices? To be frank the tea leafs are clouded because it is still impossible to say whether the July bounce to above $1300.00 is the good news everyone is looking for or just a relief rally like we saw in April after gold moved from $1600.00 to about $1350.00 and then bounced higher. To be frank the longer term chart is not technically encouraging but the jury is still out. Even though gold moved through its 50 day moving average July 22 it needs further confirmation after this brutal sell off from $1800.00 which began in October of last year.
So in the short term it is critical that gold not move below $1300.00 because if it does recent strength was merely a short covering rally and further downside is necessary in this rather long unwinding process. Again for real believers this process provides the best buying opportunity we have seen for gold since 2010. If you are an odds player prices at current levels are still in your favor because using the highs of 2011 ($1900.00) there is more upside than downside even going back to 2008 levels of $800.00.
Still want more in your favor? Why not, after all this is America. Because of the steep rate of decline in this latest sell off leg it is unlikely gold will trend sideways like it did in 2011 and 2012. And if you hold a ruler to the most recent descending tops line it might take a month or two to test new lows ($1050.00) if the current breakout fails…here comes the dreaded but…but it might not fail.
So why not take an insurance bet at current levels in case we are seeing a true turnaround? And hold the remainder of your gold investment money waiting to see what the Fed does in the next 6 months? Las Vegas anyone?
Finally your downside at current prices is a few hundred dollars in the worst case scenario and your upside is a multiple of that number if you believe the inflation monster is still out there and the Asian demand unabated.
Both walk in and phone trade today was very slow (underline slow) so I made a few telephone calls to some of the larger physical traders and most of them have gone home early. Thanks for reading and enjoy your evening. These markets are volatile and involve risk: Please Read Before Investing
Written by California Numismatic Investments (www.golddealer.com).