Much like the history of the USA itself, the story behind the Morgan Silver Dollar is rich and intriguing. This silver coin has watched America grow and mature into the developed nation that it has become today. Continue reading if you are interested in learning about the story behind the Morgan Silver Dollar.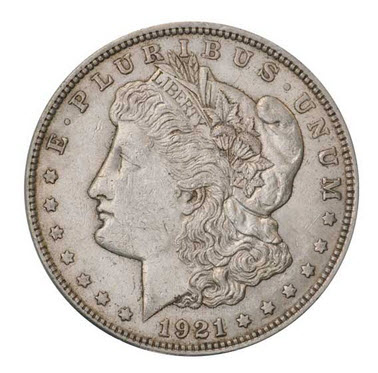 Mint Act of 1792
Before the Mint Act of 1792, Americans used an assortment of coins from other countries as currency. This act created the U.S. Mint and adopted the silver dollar for American use. However, the silver dollar would experience a rocky road from then on; most of the coins minted during the first ten years were quickly exported, resulting in the first halt of silver dollar coinage. The coins then enjoyed another stint from 1836 to 1873 before they were eliminated once again. Three years later, George T. Morgan emigrated from England to revive the silver dollar.
George T. Morgan
The U.S. Mint recruited George T. Morgan from England's Royal Mint in 1876. His first task was to design silver and half dollars in anticipation of a silver dollar revival. Morgan ended up adapting a half dollar design for the silver dollar that was put into production in 1878. Morgan modeled his design of Lady Liberty after a schoolteacher from Philadelphia. George T. Morgan continued his career with the U.S. Mint for 48 years, retiring in 1924.
Difficulty for Collectors
Because of the many significant events that halted and restarted silver dollar production, it is very difficult for collectors to complete a collection of Morgan silver dollars from each year. The United States has exported silver as well as melted it down for bullion, and these events have served as obstacles for collectors. Morgan silver dollars are still some of the most popular collectible coins.
If you would like to know more about the Morgan Silver Dollar, feel free to contact California Numismatic Investments Incorporate or visit our website. Our precious metals company specializes in gold coins, platinum bullion, and silver coins for sale. Find out more about our services by calling us at (800) 225-7531 today.