Commentary for Wednesday Sept 18, 2013 (www.golddealer.com) – Gold closed down $1.70 at $1307.80 before the news release from Federal Reserve Chairman Bernanke (FOMC) regarding the fate of his quantitative easing program ($85 Billion/Month). Gold was defensive in early trading moving as low as $1280.00 in anticipation of a change in the Fed's approach to greasing the skids of the US economic machine.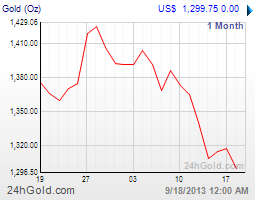 But the market rallied to almost unchanged before news that asset purchases by the Fed are not on a preset course. This has always been Bernanke's position but the trading markets did not believe this was the case and most thought the $85 Billion program would move lower because of better US economic news. So before the no-taper announcement gold closed at $1307.80 and in the after-market moved immediately to $1330.00 and then jumped to $1364.00 (www.bulliondesk.com).
Silver closed down $0.22 at $21.51 (also with a strong after-market which reached $23.00) but trading physical silver was quiet. The premium on 100 ounce silver bars is moving lower so there are plenty around and while some believe the low $20.00's is cheap for silver the public does not seem to be in a big hurry.
Platinum closed unchanged today at $1427.00 and palladium was down $3.00 at $702.00. Both platinum and palladium also showed significant strength in the after-market.
So the theory that a recovering US and Europe will make the world right and decrease the need for gold bullion diversification is more common today than it was when the financial meltdown happened some 5 years ago. But there are recognized commentators who claim not so fast: read Ambrose Evans-Pritchard comments in The Telegraph as to what he thinks is happening within the EU. This quote is only about half the article: My Groveling Apology to Herr Schauble: "I apologise for mentioning that unemployment is 27.8pc in Greece, 26.3pc in Spain, 17.3pc in Cyprus, and 16.5pc in Portugal, or for pointing that it would be far worse had it not been for a mass exodus of EMU refugees. Nor was it proper to mention that Greek youth unemployment in 62.9pc. These are trivial details. I apologise for pointing out that the EU-IMF Troika originally said the Greek economy would contract by 2.6pc in 2010 and then recover briskly, when in fact it contracted by roughly 23pc from peak-to-trough, and will shrink another 5pc this year according to the think-tank IOBE. This slippage is well within the normal margin of error. I apologise for mentioning that the debt trajectories of Spain, Greece, Italy, and Ireland have accelerated upwards under the austerity plans, and therefore that the policy has been self-defeating. It was quite uncalled for to point out that Italy's debt ratio has jumped to 130pc of GDP, or to so suggest that debt cannot keep rising on a contracting nominal GDP bas, and I will wash my mouth soap if I ever utter the words "denominator effect" again. It is shabby to use such cheap language. I apologise for mentioning IMF studies showing that the fiscal multiplier is three times higher than first thought by EU officials in EMU crisis states, and therefore that the contractionary effects of belt-tightening are far greater than first calculated. As for using that pious and pretentious Greek word "hysteresis" to suggest that mass unemployment and the collapse of investment in southern Europe has lowered the economic growth trajectory of these countries for years to come, outweighing any of the alleged gains from the EU-imposed reforms: this is just trying to blind good folk with posh talk. I apologise for suggesting that German reforms under Schröder have been vastly overblown, and that German competitiveness gains have been chiefly the result of a beggar-thy-neighbour wage squeeze at the cost of EMU trade partners. Nor should I have said that a small open economy like Sweden in the 1990s may well be able to tighten its way back to vitality in a the middle of a global boom, but if half Europe does so in unison in a slump, it will inflict carnage."
This well thought out condemnation of the now held "things are not so bad" theory is the direct result of the massive quantitative easing programs now common both here and in Europe. And while I give the powers that be credit for dodging the bullet when the collapse began I think it prudent like Ambrose to remind everyone that reading from the government playbook might not be the best idea. Tapering or not there will be consequences for this binge in spending and printing. And it is dangerous to believe mistakes of the past will not once again be repeated especially because the waters seem to be receding.
A comment on the strong after-market in gold after the Bernanke speech which made no change in the quantitative easing: I would not read too much into this pop in prices. It is a relief rally and short-covering move which will dissipate as fast as it appeared. Until the Fed really shows its hand the gold market will remain froggy for lack of a better term. It is much better to have a long term plan in mind.
The CNI computers place my almost famous LA Physical Trade Business Number at a powerful "8" but remember this number reflects yesterday's action. For those who have asked this scale is actually based on combined volume numbers and anything over "5" would be relatively busy. Like us on Facebook and follow us on Twitter @CNI_golddealer. Thanks for reading and enjoy your evening. These markets are volatile and involve risk: Please Read Before Investing
Written by California Numismatic Investments (www.golddealer.com).