Gold Closed Lower Waiting for FOMC Direction – Commentary for Tuesday Sept 17, 2013 (www.golddealer.com) – Gold closed down $8.40 at $1309.50 in thin trading waiting for more information coming out of the Federal Open Market Committee meeting Wednesday. A modest taper of the $85 billion per month used to support low interest rates would not mean much for the price of gold. But the psychological impact is already being felt and the first moves however small would carry psychological weight.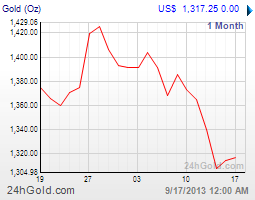 The economy while improving still needs help and the jobs recovery is not robust. With subdued inflation and Bernanke's resolve it is possible they will do nothing. Very hard to read and if the Fed does nothing it could mean a boost to gold prices. The real play at this point is not short-term swings anyway but a financial strategy which uses gold to protect against an expected inflation wave caused by all this money sloshing around.
Silver was down $0.23 at $21.73 and suffers technically from the same head and shoulders pattern seen in gold. This type of treading pattern could be bearish but in support of the current pricing model the real physical market seems to be doing just fine as small to mid-size investors buy cheaper premium bullion products. The large silver bullion player seems to be absent over the past few months but I would not read too much into this as whales come and go frequently in the silver market.
Platinum was down $17.00 at $1427.00 and palladium up $1.00 at $705.00 both have been very quiet since last Wednesday.
Neils Christensen (Kitco) quotes Grantham: CIBC: U.S. Inflation to Remain Subdued "Andrew Grantham, economist at CIBC World markets is not expecting to see a significant rise in U.S. inflation for the next couple of months. Grantham notes that large prices gains in energy markets, made last year, have also dropped out of the calculations, which should keep inflation around its current level of 1.5%. The core CPI, which excludes volatile food and energy costs, advanced 0.1%, which Grantham says was below consensus. However, the annual core CPI showed an increase of 1.8%. "Overall, the release is unlikely to make any difference to the FOMC's deliberations as the meeting commences, with the higher annual rate of core inflation offsetting the lower than expected dip in the headline annual rate," he says."
I thought this was interesting not because he claims inflation as defined by the Fed is dead (it is for now) but pay attention to the time frame Grantham quotes: "U.S. inflation for the next couple of months". The balance sheet of any institution which can lend money is fat. There must be several trillion dollars available to borrowers but banks (and other institutions) are not lending proportionately to their stack of money. Money in the general sense is not circulating among the rank and file. Corporations have a ton of the stuff and qualified Wall Street plays have no trouble raising hundreds of millions. IPO's as a source of raising money are back in a big way. And the opening bell on the trading floor even had movie stars this morning. Stocks look good and the NASDAQ is approaching all time highs.
This morning a CNBC commentator claimed stock gains during Obama's two term presidency equal those of the Reagan era! So there is plenty of money floating around but not for average working people as the middle class continues to shrink. Grantham's time frame of several months might even be intuitive. Of course this may be phraseology but is it possible a snap in inflation is right around the corner? Could the Federal Reserve be pushing "a taper" because it fears their extended time of "free money" to the big Wall Street players is more dangerous than the press would indicate? I know this may just be pondering but it is something outside the box which is worth consideration over morning coffee.
We do more walk in cash business than anyone on the West Coast and even this business has been average at best. Not slow but not very interesting and the phones show a similar pattern.
For the next few days the entire precious metal industry will be focused on what the Federal Reserve has to say Wednesday and Thursday. Most believe taper will be announced but I believe they will stand pat. One way or the other this news will push the metals but probably not create any fireworks as this market has been anticipating this change for sometime now. The CNI computers place my almost famous LA Physical Trade Business Number at a much improved "6". For those who have asked this scale is actually based on combined volume numbers and anything over "5" would be relatively busy. Like us on Facebook and follow us on Twitter @CNI_golddealer. Thanks for reading and enjoy your evening. These markets are volatile and involve risk: Please Read Before Investing
Written by California Numismatic Investments (www.golddealer.com).