Commentary for Thursday Sept 19, 2013 (www.golddealer.com) – Gold closed up a big $61.60 today at $1369.40 confirming yesterday's higher after market which reacted positively to Bernanke's no taper call. Of course traders expected some modification in the massive bond buying program and when the Fed Chairman confirmed he was not happy with the economic numbers and there would be no taper both Wall Street and the metals surged. Gold continued strong overnight in confirmation of the "more money for everyone" approach but flattened out which I took to mean "let's not get crazy here". The big obstacle for gold is still the $1400.00 level last seen during the Syrian crisis. With that confirmation we are off to the races but without this important follow through we could be looking at a repeat of the late August sell-off. Still Bernanke's latest move brings back the suggestion that the unlimited printing of fiat paper money has consequences.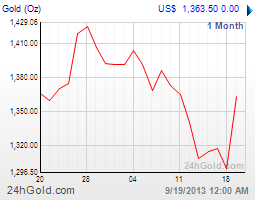 If you are considering what is not right with the trading market consider the latest J.P Morgan fiasco. Banks are entrusted with all your money and we have been assured that changes in this system will protect against the next financial meltdown. Fair enough but then I read about the whopping $920 million fine against J.P Morgan for violations in the latest trading scandal. Somehow a number that big is disconcerting to me.
Silver also reacted big to yesterday's major Fed announcement moving up $1.73 to close at $23.24. Key resistance is now $25.00 and if today's action is any indicator I don't see much follow through in the physical market. Still there is sometimes a lag between the paper pop and the public's reaction to the new higher prices so I remain optimistic. For you silver traders look at the new lower premium on US 90% silver coin bags. Only a few weeks ago 90% silver coins would have cost $3.50 per ounce over spot, now only $2.00 over spot which is less than the premium on US Silver Eagles.
Platinum was up $46.00 at $1473.00 and palladium higher by $35.00 at $737.00. Activity in the PGM is also subdued.
This from David Franklin – Market Strategist – Sprott Asset Management – (dfranklin@sprott.com): A "Taper" in a Teapot – This week's meeting of the Federal Open Market Committee (FOMC) had traders, market commentators and investors almost in a frenzy as they tried to predict the outcome. This was the meeting where economists expected the Fed to announce the 'tapering' of its monthly purchases of $85 billion of Treasury securities and mortgage-backed bonds. According to a Bloomberg News survey of 34 economists last week, they expected the Federal Reserve to taper its monthly bond buying by $10 billion, to $75 billion. 1 But they were wrong. Market reaction was harsh when Mr. Bernanke suggested in June that it would be "appropriate to moderate the monthly pace of purchases later this year [and] continue to reduce the pace of purchases in measured steps through the first half of next year, ending purchases around mid-year". The real damage was felt by the bond market with the yield on the 10-year note increasing from 2.16% to as high as 3%. This 39% increase in yield had bond investors facing an annual loss for only the third time in 33 years. 2 However, after guiding towards a reduction in stimulus for the last four months 'tapering' was not to be – at least not yet. The FOMC "decided to await more evidence that progress will be sustained before adjusting the pace of its purchases". 3 They concluded that "downside risks" to the outlook have diminished, the tightening of financial conditions observed in recent months, if sustained, could slow the pace of improvement."4 Gold and silver rocketed upwards and the Dow Jones Industrial Average and the S&P 500 were both pushed to new all-time nominal highs. In fact, monetary accommodation in 2013 is much larger than the headlines would suggest. According to data compiled by Bloomberg, the Fed's balance sheet has been increasing at an average rate of $91.9 billion each month during 2013 – yes, more than the $85 billion headline number. While the Fed has been buying assets at a rate of $85 billion per month, they have also been further adding to their purchases by investing earned interest and proceeds from maturing bonds. The largest single monthly addition to their balance sheet in 2013 was during the month of April when the Federal Reserve added $114.7 billion of assets, almost $30 billion more than the stated purchases of $85 billion. These monthly additions vary given the timing of maturing bonds but the accommodation provided by the Fed is much larger than the headlines suggest. For weeks now, gold bears have been out in force believing that 'tapering' would mark another leg down for gold. Given the drop in the gold price each time tapering is even hinted at, one might not be surprised at this prediction. But with tapering delayed, gold and the other precious metals appear to have found a bottom and now have limited downside. While much ink has been spilled about 'tapering' of assets purchases, it now seems that this extended discussion of reducing monetary accommodation was nothing more than a 'taper in a teapot'.
This dance the Federal Reserve and Chairman Bernanke have had with Wall Street, the American public and government is fascinating. A curious word no doubt but considering the Fed mandate and their supposedly independent decision making powers they have changed their position a number of times by testing the waters, being more than optimistic about their numbers, chiding Congress for past transgressions and the Bernanke's latest veiled threat about Congress once again getting in the way of monetary policy. This quantitative easing program has weighed on trader's minds this past year and they still are not sure what will happen 3 months from today.
Clearly the Fed Chairman was not happy with the recovery in yesterday's speech and that is the reason the program was not modified but why remain silent and let the markets believe a change was in the making? It is almost like they are gaming the system to see if their policies are working. I am beginning to believe getting away from this monetary stimulus might not be as easy as just declaring the party is over. And the long term consequences for gold are still not clear regardless of this latest pop in prices.
Over the past decade gold has moved from being consistently bullish to a long and drawn out side-ways market which then turned bearish as the big spec money ran for the hills. The one thing today's investor can be counted on is inconsistency but I am also beginning to wonder if this "on again" "off again" approach simply mirrors our own government. This supports the notion that this entire "monetary experiment" might just as easily go off the rails which is the scenario of choice with today's bullion buyer.
The CNI computers place my almost famous LA Physical Trade Business Number at "3". For those who have asked this scale is actually based on combined volume numbers and anything over "5" would be relatively busy.
Everyone likes treasure but finding treasure is more fun than buying treasure. CNI is giving away (no purchase necessary) a dandy metal detector on our Facebook page: to enter the contest just "like us". Of course this is shameless self promotion but the detector is the real deal (Garrett) like the ones used on the reality TV show Diggers. So like us on Facebook and follow us on Twitter @CNI_golddealer. Thanks for reading and enjoy your evening. These markets are volatile and involve risk: Please Read Before Investing
Written by California Numismatic Investments (www.golddealer.com).