Commentary for Friday Sept 20, 2013 (www.golddealer.com) Gold gave up $36.90 of yesterday's big gain ($61.60) to settle at $1332.50 into the weekend. This lack of follow through was probably technical in nature and reinforced when gold moved below its 50 day moving average ($1341.00). On a fundamental note India's gold imports will soon improve. This important metric has fallen to near zero as traders grapple with confusing import rules and higher taxes.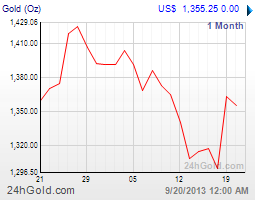 Silver followed gold lower down $1.37 at $21.87 and bullion sales in this sector seem to be picking up in the less than $5,000.00 range especially by the walk in cash trade.
Platinum also followed gold lower down $40.00 at $1433.00 and palladium was down $16.00 at $721.00.
And now the Kitco Famous Survey: Whipsaw action in gold this week is leaving participants in the Kitco News Gold Survey split in their views on where gold prices might go next week, with a nominal number expecting higher prices. In the Kitco News Gold Survey, out of 36 participants, 19 responded this week. Of those 19 participants, nine see prices up, while eight see prices down and two are neutral. Market participants include bullion dealers, investment banks, futures traders, money managers and technical-chart analysts. Last week, more survey participants were nominally bearish. As of noon EDT Friday, prices were up about $28 on the week. As of Aug. 30, survey participants have been correct two of the past five weeks. Those who see higher prices said they expect some follow-through buying after Wednesday's rally to occur, even with the profit taking that's hit gold on Friday. Gold prices shot higher when the Federal Reserve said it would continue to buy $85 billion a month in bonds, rather than lower that figure, which is what the markets were expecting. Adrian Day, chairman and chief executive officer at Adrian Day Asset Management, said it shouldn't have been a surprise that the Fed didn't cut back on stimulus as the Fed needs to keep interest rates low to finance government debt. "Without the Fed to buy Treasurys, rates would soar and the dollar sink, adding significantly and dangerously to the government's debt service burden. So the Fed will do all it can to keep rates low and keep buying bonds. All this is bullish for gold, which had grossly overreacted to concerns about tapering,� Day said. Participants who see weaker prices said they were disappointed by the way the market sold off on Friday. "This market is not looking good. Even with the big rally we couldn't settle above the 20-day moving average,� said Charles Nedoss, senior market strategist with Kingsview Financial. On Thursday, the day after the Fed meeting, the December gold futures were above the 20-day average of $1,371.30, but closed at $1,369.30. Nedoss said the December gold future's drop under the 100-day and the 50-day moving averages at $1,351.50 and $1,340.70, respectively, is "disheartening. I think over the course of next week we could see the market test $1,300.
So my email stack is once again growing with Fed questions. By now it should be apparent that paper traders (both stocks and metals) are obsessed with what the Federal Reserve is going to do with its famous quantitative easing program. A short statement from Fed Chairman Bernanke Wednesday claiming no taper and both the metals and Wall Street went crazy. This message however has more than one meaning in that it is obviously bullish for metals short term but in the wider context you should ask what this means for future FOMC meetings in late October and mid-December. Especially if economic news improves so lets talk about two scenarios: (1) no real improvement over current data and so again no taper announcement would of course support current gold numbers. Would the market make new highs? No way short term without a pop in inflation or a break-down in the Middle East (possible especially if Egypt continues to deteriorate and Iraq stalls on gas talks). This would introduce a drawn out "grind" period which would drag gold prices higher over the next year. Nothing dramatic perhaps 6% a year. Why not more? Because the banking fear factor is gone and gold must now compete with other investments. Still not a bad return on your money for a fail-safe insurance policy which should be there to protect against anything nuclear. (2) Real improvement in jobs and the economy which leads to the beginning of "taper".
This is the more likely of the two choices and so gold commentary would once again center around when the step-down in monetary easing would begin making the markets heavy. But remember in this scenario Janet Yellen would be Fed Chairman and she follows the Bernanke playbook closely so don't expect much different. She is a jobs hawk and I am afraid this portion of the recovery will remain stuck in mud.
In either scenario I don't see a big technical advantage for gold but both provide just what this market needs and that is more time to shake out the weak hands. This consolidation in the gold price is not over regardless of the occasional pop to the upside. Which is the perfect answer to those who believe they might have missed something when it comes to making money with gold. Sooner or later this cross-tide which is primarily transitory will subside and be replaced with how much gold is available to the physical market. This is the real conversation which will lead to higher and sustainable prices.
A reminder about the $1200.00 to $1400.00 "accumulation band" I have been talking about these past weeks. This will work for the average physical buyer looking to hedge modest personal wealth. Don't get distracted with all the "gold commentary" talk about "this is it" we are heading higher. Perhaps we will and that would be good but my feeling is that these cross-current talks (including the debt ceiling or so called shut down) will once again weigh heavy on gold providing overhead resise
This from A. Ananthalakshmi – SINGAPORE, Sept 20 (Reuters) – Gold hovered near one-week highs on Friday and was on track for its biggest weekly gain in five weeks after the U.S. Federal Reserve postponed the tapering of its bullion-friendly stimulus measures. But gains were likely to be capped during Asian hours as key buyer China was closed for the mid-autumn festival. "The market will take some time to digest the 'no-taper' surprise," said Victor Thianpiriya, an analyst at ANZ in Singapore, adding that economic data would take on more significance going forward. My buy weakness plan cannot be beat while this market continues to settle waiting for the return of inflation. I never have bought the argument that gold or silver supplies are "drum tight" (the usual mantra sold today by dealers with an agenda) . There was plenty of gold for ETF accumulation when prices were hot and the physical market had no problem absorbing the subsequent sell off when demand cooled and prices headed south. Why? Because gold and silver are naturally price regulated meaning as prices move higher more and more comes to the market. The same is true as prices recede meaning less and less becomes available so there will be enough around to handle US and foreign demand for the present. When supplies really get tight (and they will as soon as this monetary reflation comes home to roost and we experience another "fear" round) prices will explode. But not in the near future so there is still plenty of time to get your financial house in order.
Both the walk in cash business and phone trade was again curiously quiet as though the public was just surprised over yesterday's pop in prices. No rush to action but a ton of phone calls and questions. So I still like my initial reaction which was let's not get carried away here…there is still a lot of technical work to do before gold is out of the woods.
The CNI computers place my almost famous LA Physical Trade Business Number at "1" a perfect number to describe how the public feels about the taper decision on the short term. For those who have asked this scale is actually based on combined volume numbers and anything over "5" would be relatively busy. Everyone likes treasure but finding treasure is more fun than buying treasure. CNI is giving away (no purchase necessary) a dandy metal detector on our Facebook page. Of course this is shameless self promotion but the detector is the real deal (Garrett) like the ones used on the reality TV show Diggers. So like us on Facebook and follow us on Twitter @CNI_golddealer. Thanks for reading and enjoy your weekend. These markets are volatile and involve risk: Please Read Before Investing
Written by California Numismatic Investments (www.golddealer.com).