Commentary for Monday, July 29, 2013 – Gold closed only marginally higher today up $6.20 at $1328.42 against a 5 day drop in the dollar of more than a point. Trading was quiet and really an extension of last week's lethargic action while still holding above the important $1300.00 mark.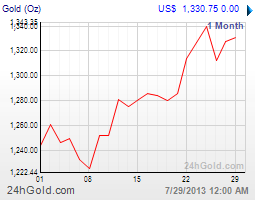 This market is waiting for more news and until it sees something actionable will remain on hold. Negative for gold was the prediction that it would push $1000.00 by 2015 by Dr. Doom himself (Nouriel Roubini). This is worthwhile because at least someone is saying something and not just waiting for more Federal metric numbers like jobs or real estate sales to further cloud the easing numbers.
On the positive side the finance minister of India said imports of gold to India would be higher in July. Her imports fell last month to 31.5 tons following previous levels of 162 tons (May) and 141 tons (April) after higher taxes designed to slow gold purchases by her citizens.
The big talk today was the sure (almost) replacement of Fed Chairman Bernanke by January of 2014. Who and when will push gold one way or the other but my bet is a dovish choice is in the works which is good for precious metals.
Silver continues to follow gold up $0.09 at $19.85 and this market is also lacking any buzz even from the dire hard chat rooms. The Exchange Traded Funds in silver remain steady to higher so someone is looking at a value play.
Platinum was up $20.00 at $1442.00 and palladium was also higher by $20.00 at $744.00.
This breakdown of the paper market is long but worth a read by Debbie Carlson (Kitco) – Speculators Buy Gold, PGM Futures, Options – For the second week in a row, speculators returned to buy gold and platinum group metals futures and options traded on the Comex division of the New York Mercantile Exchange and the Nymex, according to U.S. government data. For the week ended July 23, speculators in the Commodity Futures Trading Commission's weekly commitment of traders report continued to not only cover previously sold positions, but also established new bullish positions in gold in both the disaggregated and legacy versions of the reports. Analysts said they weren't surprised to see the build in net-long positions in gold, given the rise in prices. Buyers also returned to the platinum group metals in both reports. Activity by funds was mixed for silver, with buying seen in the disaggregated report, but selling noted in the legacy report. Speculators' activity in copper was also mixed, with funds curbing the net-short in the disaggregated report, but increasing it in the legacy report. All of the metals rose during the week covered by the report. August Comex gold rose to $44.30 to $1,334.70 an ounce as of July 23, while September silver climbed 31.9 cents to $20.254. October platinum rose $18 to $1,443.10 an ounce, while September palladium climbed $3.85 to $739.45. Comex September copper moved up 1.15 cents to $3.1980 a pound. Managed-money accounts boosted exposure to gold futures and options in the disaggregated report, increasing their net-long position to 70,067 contracts, the highest since mid-March. Managed-money accounts added 5,959 gross longs and cut 8,573 gross shorts. Producers lightly added to their net-short position by cutting more gross longs than gross shorts, while swap dealers lifted their net-short position by cutting gross longs and adding gross shorts. The situation was similar in the legacy report as non-commercials sharply increased their net-long position, having added 7,916 gross longs and cut 8,730 gross shorts. They are now net-long 57,778 contracts, their biggest net-long position since mid-June. Commercials are net-short, having heavily cut gross longs and added gross shorts. "Gold (speculators) continued to cover short positions, but also reacted positively to less Fed tapering chatter by adding to length. Net (speculative) position increased for a second consecutive week, but remains well below 2013 highs," said TD Securities. After reaching a record high earlier this month, HSBC noted that gold gross speculative short positions fell for a second week to 16.5 million ounces from 17.0 million a week earlier, and likely helped lift prices. "Further short covering for gold speculative positions may help boost prices in the short term, in our view," they said. UBS cautioned reading too much into the speculators' short covering. "Short-covering of late is likely a reflection of participants taking a more neutral stance towards gold, particularly in the short term. Market participants acknowledge the upside risks, given historical seasonal patterns….That short positioning had become quite extreme would also have prompted some scaling back, especially ahead of key risk events this week. The anticipation of the FOMC meeting on Wednesday and nonfarm payrolls on Friday is likely to deter large position-taking and result in more subdued market activity in the next few days," the bank said. The silver net-long position for the managed-money accounts rose to 6,321 contracts. The rise came from adding 90 gross longs and cutting gross shorts, 1,401 contracts. Producers are net-short and but saw only a small drop in that position when a few more gross longs were added than were gross shorts. Swap dealers are net-long and added to that position by cutting more gross shorts than gross longs. Non-commercial silver activity was different in the legacy report. They cut 940 gross longs and 404 gross shorts, lowering their net-long to 6,568 contracts. Commercials are net-short, but reduced that position by cutting more gross shorts than gross longs. "Silver specs were very quiet this week, reducing bets on both sides with the edge given to the shorts thanks to a larger number of longs covering positions as demand growth concerns weighed on upside prospects," TDS said. Managed-money accounts in platinum increased their net-long position to 21,171 contracts, having added 1,737 gross longs and cut 925 gross shorts. Non-commercials also augmented their net-long position, which now is 25,610 contracts, having added 1,479 gross longs and cut 465 gross shorts. In palladium, the managed-money accounts raised the net-long position to 22,605 contracts. They added 812 gross longs and 38 gross shorts to increase the net-long position. In the legacy report, non-commercials added 954 gross longs and 381, lifting their net-long to 23,621 contracts.
Walk in and phone trade at the CNI Building today followed the same line it did for most of last week that being somewhat on the quiet side with volume numbers trending lower but with steady silver action. Thanks for reading and enjoy your evening. These markets are volatile and involve risk: Please Read Before Investing
Written by California Numismatic Investments (www.golddealer.com).