Commentary for Friday, July 26, 2013 – Gold closed down $7.30 at $1321.70 so weaker on the day but recovering from session lows of $1311.00. On the week gold was up a mere $28.00 which does mark the third week of higher prices but I expected more from a market that looked ripe for a turnaround. Still we have seen a few bounces higher in the recent technical channel so let's remain hopeful.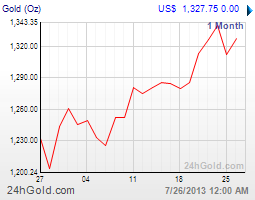 Consumer sentiment is at its highest level since 2007 and since consumer spending drives 70% of the US economy stocks are happier and lack of fear regarding inflation or banking problems takes spec dollars away from gold. The Big Mac Index (believe it or not a much watched inflation indicator) is saying the Consumer Price Index is not a reliable inflation gauge because the price of a Big Mac is moving dramatically higher. The most popular gold bullion coin this week according to the CNI inventory computer is the US Gold Eagle.
Jim Wyckoff (Kitco) notes: "The International Monetary Fund (IMF) reported Friday that central banks in emerging market countries continued to add to their gold reserves in June. Russia was also a buyer, while Germany was reported as a seller of gold last month. The gold market bulls who have done some bargain hunting at lower price levels recently have to feel pretty good about the fact that central banks of sovereign nations are doing the same."
This is interesting because under any other circumstances this one paragraph would be enough to support gold prices but this summer market appears so lethargic that even good news is met with a yawn. Chairman Bernanke's comments assuring continued quantitative easing on Monday, July 22 pushed gold higher $43.10 and created energy for a big follow through but since that time the air has been slowly let out of this market. Even physical action with us and now confirmed with other large dealers has been slowing at a time when you would think things should be picking up.
Silver was also soft today down $0.38 at $19.76 and continues to follow gold closely. The public purchased more US Silver Eagles this week than any other silver bullion product but like gold gross sales numbers are moving lower.
Platinum was down $26.00 at $1422.00 and palladium was down $16.00 at $724.00 which continues to be surprising considering the big rebound in worldwide car sales.
And now the famous Kitco News gold survey is split on what to expect from prices next week, during a news-heavy period that will include a U.S. Federal Open Market Committee meeting and monthly jobs report. Out of 36 survey participants, 23 responded. Nine see prices up next week, six see prices down and eight see prices sideways or unchanged. Market participants include bullion dealers, investment banks, futures traders and technical-chart analysts. For the short term, traders' expectations hinge in part on whether they expect the FOMC and employment news to be bullish or bearish for the yellow metal. Sean Lusk, director of commercial hedging for Walsh Trading, said he anticipates further gains for gold unless the FOMC is less dovish than anticipated or the monthly jobs report is unexpectedly strong. "Those are the only two roadblocks to keep this market from trading back up to the $1,380-$1,400 level," he said. He also anticipates that traders will start looking ahead toward seasonal strength that tends to start picking up toward the latter part of the summer ahead of autumn festivals in India. "I think we will see a strong dollar. I think we'll see stronger jobs data. I think it will create some weakness in the metals markets," said Daniel Pavilonis, senior commodities broker with RJO Futures, who looks for a retreat in gold. Others said they look for weakness since the recent price rise may have hit the targets of short-term traders. Others say that it appears some investors are using the recent short-covering rally as an opportunity to exit from long positions. Frank Lesh, broker and futures analyst with FuturePath Trading, sees potential volatility even if the market is sideways. "Gold finally managed to push through the $1,300 resistance level and return to the breakdown area of $1,350," he said. "Gold should trade in a range between $1,348 (Tuesday high) and 1,308 (Thursday low) until next week's Fed meeting and employment report. If the market closes above $1,348, it will target $1,360 and $1,395, and if it closes below $1,308, it will target $1,266 and $1,238. "I look for some volatility into the reports, but not so sure where this market ends next week. Gold remains in a downtrend, but I'll go with steady prices next week as August goes into delivery and we transition to December gold."
Both walk in and phone business was steady but on the lower end of the relative spectrum and I think this week is typical of what used to be called summer trading days. But I would continue to watch Egypt carefully as this region and therefore oil are still volatile. Thanks for reading and enjoy your weekend.These markets are volatile and involve risk: Please Read Before Investing
Written by California Numismatic Investments (www.golddealer.com).