Commentary for Tuesday, July 23, 2013 – Gold was down mildly off $1.30 at $1335.10 and so experienced some psychological letdown after the big move to the upside of more than $40.00 yesterday. Everyone was banking on perhaps a large follow through supported by increased Asian gold buying…but it did not happen. So after advances in 5 of the past 6 sessions gold bulls were disappointed.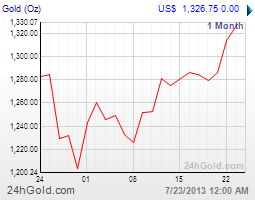 The dollar was a little negative but for the most part gold moved away from the media and trading comments as well which is good as real owners watch this new base building effort in an attempt to see if gold's long term consolidation is over. I still think this market needs more time to heal but don't kid yourself gold still has plenty of game especially if Bernanke keeps buying bonds.
And in the meantime cheaper prices keep the American public interested and the world buyers waiting…which brings me to another point. World demand for physical gold will always be there and be consistent but that does not mean the Asian contingent is not good at rattling their chips. If they perceive prices are ahead of themselves they will simply pass and wait for better opportunities.
And while the tax situation in India is dire that does not mean gold is not smuggled willy-nilly into this country whose festival season is not far away.
Silver was also on the quiet side today down $0.25 at $20.24 and the most popular silver bullion coin remains the US Silver Eagle (with enough supply to make everyone happy) as the production figures from the US Mint are up 47% so far from last year. And my bet is that production of US Silver Eagles could have been higher if more planchets (silver coin blanks) were available. More questions about silver bullion or premiums or what is hot or not? Ask away at Silver Bullion Grad School.
Platinum was down $5.00 at $1441.00 and palladium was down $11.00 at $739.00.
This from trader Peter Hug (Kitco) – Caution – I remain somewhat skeptical in the short term as momentum has waned overseas. The acceleration that should have materialized after the breach of $1,327 was not to be in the Asian and European markets. The gold market is still constructive as long as we hold the $1,325 level, which is now support. The mild bounce in the US dollar overnight took some enthusiasm away from the bulls but if we can consolidate above support for a few trading days, a push to $1,357 should be in the cards. The markets are very tenuous, and, as August approaches, they will be resembling Stephen King's movie "Thinner".
I am a bit more optimistic than Peter in that solid technical short term support is still on gold's side. And I agree that more follow through today would have been nice. But yesterday's short covering still means gold sentiment is improving and while caution is always good undue caution should be avoided. The one thing a bearish market produces is continued stress and even when good news appears traders like the "yes…but answer" meaning they are not willing to accept that the general landscape might be improving.
This happens all the time on Wall Street and even today there are some commentators who simply won't believe that things are improving and the "end of the world" scenario is not going to happen anytime soon. The Germans have a great term for reacting with caution or in anticipation of an approaching situation: "zwischenzug" or intermediate move sees common usage in the game of chess.
This is where gold is today so don't be afraid of price swings and don't let your long term buying plan be interrupted.
Both walk-in trade and phone business was somewhat quiet today but the phones were steady with questions so the public is again watching prices wondering if this latest reach above the $1300.00 mark will hold. Thanks for reading and enjoy your evening. These markets are volatile and involve risk: Please Read Before Investing
Written by California Numismatic Investments (www.golddealer.com).